Stop the Presses! And Leave 'Em Off!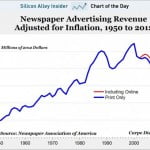 Remember a couple of days ago when the Czar was really annoyed with the Main Stream Media, and how this was the beginning of the end?
One of us, probably Volgi (because he often forgets to sign his tweets), tweeted the following graphic that shows just how freaking awful it is in the newspaper business.
Click on it for a bigger version, but what you see is how newspaper advertising revenue—which is based on how many readers you actually have, as opposed to your general circulation numbers—has changed over the last 60 years.
Yeah, see that big plunge after 2000? The news print industry blames the internet, but that is taken into account as well. The red line shows how online news media spiked a bit around 2003, and actually generated more revenue than printed news.
No, the Czar maintains, the tremendous plunge cannot be explained by the internet alone. The reality is that printed news sucks. There; we said it. And the Czar loathes the use of the word "suck" in that context, but there it is.
Back in the day, when news stories were written by people who knew how to tell a story and reviewed by editors who spoke English and understood writing comprehension, there was an obvious trend upward, especially in the 1980s. Today, the cretins have taken over, and there are very few people who can write a story. Compare:
1975: Mr. Cliff Hanger, of the 320 block of Himmler Avenue, reported that three unindentified juvenile deliquents were spotted around the southwest side of the park in the evening hours of September 15th. "My wife and I had just finished a late dinner and were sitting down for the Art Carney movie on television when I spotted movement out by the playground. I called the police, and they came in about eight minutes. However, the kids ran North, toward the old paint cannery before the police could park; that's when I went outside and Officer Masher and I saw the vulgarly-worded graffiti on the kids' slide. Don't these kids have any realization that little children play there? What kind of parents do these kids have?" This is the fourth incident involving juveniles loitering on or about the cannery premises; however, the City Council refuses to condemn the property.
2012: Teenager's continue to vent their frustration at Mitt Romney, who cannot provide any details about his economic plans. Teenager's, statistically more likely to be under the age of 20, lack adequate afternoon activities due to shrinking government funding from the Republican-led House. The lack of vital federal funds has forced some forward-thinking teenager's to start their own youth center in the old cannery where they take to mural painting and decorative calligraphy at the nearby park on Himmler Avenue. One future leader, who goes by the name MuthaPhoque, said that he would be happy to learn video game programming, but the library won't teach it since they lack federal funding resources. The old cannery is remembered by some as a source of intense local pollution before essential environmental regulations forced its closure in the 1960s. Today it sit's testament to the necessity of the EPA. In recent weeks, Mitt Romney has been inexplicably critical of the EPA, and has been unable to articulate why the cannery should reopen.
You may also have noticed that newspapers are now little more than pamphlets these days, in weird 15-inch by 9-inch sizes. This is not because there is less news today, but because the ads are effectively gone.
In their place is editorial and opinion fluff. And why not? By the time a story breaks, a reporter covers it, and editor messes it up, the paper is printed, distributed, and purchased, the entire affair is already over. Nothing like hearing about a major news story, and the morning paper still has whispers that something big might be imminent.
Look, ya can't predict the future (well, some of us can), and you cannot seriously expect the news media to write the ending to a story hours before it transpires. So rather than write news that will be hours old the minute it lands on your driveway, the news media has found a solution: go with analysis and spin doctoring.
Why not? A feature columnist can write an anti-Romney screed on Monday, and the same nonsense will still be in circulation by the time it winds up in your hands on Friday. Heck, a clever editor can write a whole piece on how stupid he thinks George W. Bush was, and they still will run it days later, even though that ship sailed almost a half decade ago.
And how successful does this work? Allow us to refer you to that graph upstairs.

Божію Поспѣшествующею Милостію Мы, Дима Грозный Императоръ и Самодержецъ Всероссiйскiй, цѣсарь Московскiй. The Czar was born in the steppes of Russia in 1267, and was cheated out of total control of all Russia upon the death of Boris Mikhailovich, who replaced Alexander Yaroslav Nevsky in 1263. However, in 1283, our Czar was passed over due to a clerical error and the rule of all Russia went to his second cousin Daniil (Даниил Александрович), whom Czar still resents. As a half-hearted apology, the Czar was awarded control over Muscovy, inconveniently located 5,000 miles away just outside Chicago. He now spends his time seething about this and writing about other stuff that bothers him.