God, But Science Journalism Stinks Bad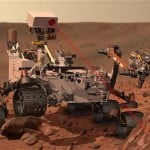 Uh-oh! The Los Angeles Times has a science article written by Louis Sahagun, who appears to be in junior high school.
Success! You found liquid water in the steam of your laser! Now shut down, before you uncontrollably use your drill and kill us all!
And the headline proves it: "If the Mars rover finds water, it could be H2 … uh oh!" No, the Czar isn't making this up. That is the actual headline.
See, scientists are weely weely worried (frowny face!) that the Curiosity rover might actually encounter water on Mars, because any Earth-based microbes riding on the rover might, you know, like that water and do the nasty.
Turns out, if you can stand to read to the end, that NASA has strict quarantine rules and procedures, but evidently these were breached when someone opened the box of drill bits that went into the rover. And while the drill bits were contained in a clean room the entire time, yeah, there is a tiny chance that some flu virus got onto one of those bits. Which means that we might have a flu virus careening around on Mars.
This story gets a whole lot wrong.
Maybe in Los Angeles Times-land, scientists cry a lot and stuff. But in the real world (where you live) scientists would be thrilled heels over head to find liquid water on Mars. It should be rarer than gold.
And even though the risk of contamination is incredibly small, there is a positive chance that one or two of the drill bits could be plunged into liquid water fast enough for the bugger to survive the sterilizing environment on Mars, the story explains.
So if Curiosity finds liquid water, scientists (a) celebrate a momentous find and (b) simply don't freaking drill there. They run other tests instead.
Doofuses at the science desk: the whole point of drilling in the first place is to find residue of water. If they find liquid damned water, there is no reason to drill. That's where any of the hundred other tests the rover can do come into fruition.
The rest of the article, as you expect from main stream media science journalism, is a cut and paste pastiche of Wikipedia articles on the dangers of contaminating other worlds.
Know what the Czar might have done? He might have written a simple pice that NASA has strict decontamination protocols, but due to a freak happenstance these were not followed and the officer in charge of sustaining those procedures is pretty ticked off at the engineers who screwed up. Done.
There simply is no getting through to these people. Of course, the author is already now been assigned to write obituaries for local forgotten celebrities, and next weekend will be in charge of the financial advice column.

Божію Поспѣшествующею Милостію Мы, Дима Грозный Императоръ и Самодержецъ Всероссiйскiй, цѣсарь Московскiй. The Czar was born in the steppes of Russia in 1267, and was cheated out of total control of all Russia upon the death of Boris Mikhailovich, who replaced Alexander Yaroslav Nevsky in 1263. However, in 1283, our Czar was passed over due to a clerical error and the rule of all Russia went to his second cousin Daniil (Даниил Александрович), whom Czar still resents. As a half-hearted apology, the Czar was awarded control over Muscovy, inconveniently located 5,000 miles away just outside Chicago. He now spends his time seething about this and writing about other stuff that bothers him.