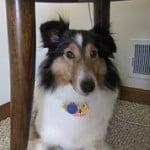 Muscovy announced a contest some weeks ago asking every kid to write in why his or her dog is the best dog in Muscovy. Winners would receive a special prize.
Sally still prefers to hide under anything she can. To her, having something over her head is still somewhat of a novelty.
The Цесаревич, who is almost 10 now, decided to write in about our little Sally. You will recall that she was rescued from an owner who left her, her puppies, and her sister out in a flood to drown. All but one of the puppies drowned, even though she tried to save them all. Sally was badly sunburned, as she was forced to live outdoors constantly, in all weather, with no shelter. We have observed that she is terrified to eat in front of a person, to the point we suspect she was teased badly by someone who scolded her if she approached her food bowl.
Since we rescued her, she has made tremendous progress. She still becomes quite upset when it rains, and seeks to leap onto the couch. She gets very worried if the family is separated in various rooms during a storm, as her herding instincts drive her to get everyone together in the same room, safe up on the couch with her. But other than that, she now explores the home, is eager to meet other dogs in the neighborhood, and likes hikes, sitting on the deck under a table, and on rare moments, watching television with the Царица on the bed. She is becoming quite the dog, and we mark her caninity with little milestones that would seem trivial to anyone else. For example, we became very elated the other day when she came out of hiding and ate a couple of corn kernels off the floor that a visiting toddler had dropped while eating. Dog owners take kitchen food vacuuming for granted; for Sally, this was a first.
Anyway, the Цесаревич submitted his essay. He explained her story, and wrote that he thought our little Sally was the best because she almost died from the cruelty of others, and must still miss the pups she could not save; that she has no reason to trust any person in the world anymore but she bravely trusts us anyway. And just for a moment, every now and then, she falls asleep with his arm around her, and she realizes she might finally be home. In a real home, forever.
The Czar said "Make it sadder," but the boy wanted to go with what he wrote. "People will understand," he assured. He drew a simple, little picture of her in the corner, all brown and scribbly.
Well, the Village called today to announce his essay made some of the judges cry, and while the voting was not unanimous, it was a landslide.
Next week Saturday, Sally will be the Grand Marshal in a parade in her honor, and the Цесаревич will escort her. The Muscovy Conservative is publishing the essay along with photographs of the two. We were asked to submit a picture of them tonight for a promotional flyer that will be distributed over town this weekend. He is ecstatic over his near-certain imminent worldwide fame, while Sally is fairly hopeful this will translate into more food for her on a regular basis.
Other Muscovy pets and contest entrants will be in the parade as well. The Czar graciously accepts whatever adulations and benedictions they choose to submit to him on Sally's behalf. She has taken the news as is her wont: her eyes are closed, her head on a pillow in her "forever" home.
Even so, the boy is floating on air. And well he should, for he was right: they did understand.

Божію Поспѣшествующею Милостію Мы, Дима Грозный Императоръ и Самодержецъ Всероссiйскiй, цѣсарь Московскiй. The Czar was born in the steppes of Russia in 1267, and was cheated out of total control of all Russia upon the death of Boris Mikhailovich, who replaced Alexander Yaroslav Nevsky in 1263. However, in 1283, our Czar was passed over due to a clerical error and the rule of all Russia went to his second cousin Daniil (Даниил Александрович), whom Czar still resents. As a half-hearted apology, the Czar was awarded control over Muscovy, inconveniently located 5,000 miles away just outside Chicago. He now spends his time seething about this and writing about other stuff that bothers him.