Fact Checking? More Like Fact Roughing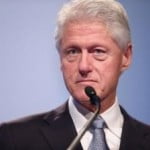 The Czar won't lie to you. He loves to see more and more mounting evidence that Bill Clinton made up enormous parts of his speech against the evil Republicans the other night.
Not that the Czar is defending anything Clinton said, exactly. AFP/CHIP SOMODEVILLA/GETTY IMAGES
The facts are there to verify. And anyone who does sees that Clinton gave a convention speech: make up a bunch of stuff, because at this point everyone has pretty much decided for whom they're voting, and the handful of undecideds left won't matter to either side.
But something vexes the Czar about one fact check. Associated Press conducted their own check of the facts. Not surprisingly, they found it rife with exaggerations and falsehoods. But check out the last item:
CLINTON: "Their campaign pollster said, 'We're not going to let our campaign be dictated by fact checkers.' Now that is true. I couldn't have said it better myself — I just hope you remember that every time you see the ad."
THE FACTS: Clinton, who famously finger-wagged a denial on national television about his sexual relationship with intern Monica Lewinsky and was subsequently impeached in the House on a perjury charge, has had his own uncomfortable moments over telling the truth. "I did not have sexual relations with that woman, Miss Lewinsky," Clinton told television viewers. Later, after he was forced to testify to a grand jury, Clinton said his statements were "legally accurate" but also allowed that he "misled people, including even my wife."
Pardon us? What the hell does Monica Lewinsky have to do with the Republican response to an ad?
A proper fact check should indicate whether a Republican pollster made such a statement. Nothing more.
Going into a diatribe against Bill Clinton—particularly an unrelated event that happened more than a decade ago—is unfair to both Democrats and Republicans. Both parties want to know if a pollster actually said something like that. Was Clinton being truthful?
The question is not whether Clinton is still capable of telling the truth (which of course he is—he wasn't lying when he said Eisenhower was responsible for voluntarily enforcing civil rights, among other things). For AP to make a snide comment about Clinton's past somehow indicating his present state of mind is opinion.
You know, one of the things really frosting Republican voters is that "fact checking" is nothing more than "spin doctoring." Now Democrat voters have a really good taste of how unpleasant that is. It serves no purpose except to infuriate and confuse.
If you want to check facts, AP, then please do so. But check facts by indicating TRUE or FALSE, not speculation or conditional "yeah but" opinions. This is a perfect example of why everyone is giving up on the media, not just Republicans tired of liberal tirades.

Божію Поспѣшествующею Милостію Мы, Дима Грозный Императоръ и Самодержецъ Всероссiйскiй, цѣсарь Московскiй. The Czar was born in the steppes of Russia in 1267, and was cheated out of total control of all Russia upon the death of Boris Mikhailovich, who replaced Alexander Yaroslav Nevsky in 1263. However, in 1283, our Czar was passed over due to a clerical error and the rule of all Russia went to his second cousin Daniil (Даниил Александрович), whom Czar still resents. As a half-hearted apology, the Czar was awarded control over Muscovy, inconveniently located 5,000 miles away just outside Chicago. He now spends his time seething about this and writing about other stuff that bothers him.