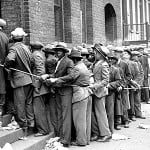 Democrats begin their convention, and it might be worth watching just to see what Bill Clinton does during his speech. He has already threatened to wreck the convention if he didn't get his way—and on his list of demands is the ability to deliver the speech he wants without any contributions from Team Obama, and (more curiously) he refuses to allow anyone to proof it, first—and is even writing the speech in longhand which will prevent electronic theft. Privately, and within the last two weeks, Clinton has been bashing Obama to his staff, has been agreeing with Romney, and is making it clear he wants Hillary set up for an uncontested run in 2016.
Charlotte residents all too eager to line up for the convention.
While one doubts President Clinton will do or say anything that will actually trash Obama, there is also little doubt that Clinton's speech will cost Romney an election, either.
From all we have seen, the planned convention is not doing well with voters; delegates are so short in number that seats are literally being given away—and there is some concern that Occupy protestors have been snatching them up in advance of interruptions and mid-delivery demonstrations. But even folks planning to vote Democratic have their concerns.
Polls show that Democrats, like Republicans, want Obama and Friends to answer why the unemployment rate is so high. They want to know why blaming George W. Bush makes any sense at this point, when (a) 40 months of worse economics refutes that and (b) none of the alleged Bush cronies who caused the economic downturn have been arrested or even charged…almost as if there were none to be found. Let's see if a Romney-led Department of Justice, however, can come up with any names. Incidentally, a good portion of the convention will be spent blaming George Bush. Not kidding.
Think the Democrats will have a national debt clock running? If our math is right, from gavel-to-gavel, almost three billion dollars in new debt will accrue. Billion is the number with the b. If Republicans danced when the hurricane hit, what are Democrats dancing to? Thirteen dollars out of every American's pocket.
And what about Obamacare? All polls are unanimous that Americans want this monstrosity repealed and healthcare reformed along market means. Already there is evidence that any discussion of contraception and abortion will be viewed as hostile to that end—so, rather than apologize for Obamacare, the Democrats will be touting how much it was cost Americans for things they evidently do not want.
The biggest concern voters have is the Reagan question Romney put out at the Republican convention: are you, voter, better off today than you were four years ago? So far, it looks as if Democrats will obviously duck the question, or try to tapdance with a "No, but…" squirm.
Coupled with the threat of unfortunate weather (the Democratic convention will be held in an outdoor venue), the Axelrod team must be sitting with their heads in their hands. While conventions have ultimately little effect on swinging polls, the Democrats must realize this will be an expensive waste of money when they really need it in other places.
The Democratic National Convention, such as it is, will be quickly forgotten as a celebration of failure to listen.

Божію Поспѣшествующею Милостію Мы, Дима Грозный Императоръ и Самодержецъ Всероссiйскiй, цѣсарь Московскiй. The Czar was born in the steppes of Russia in 1267, and was cheated out of total control of all Russia upon the death of Boris Mikhailovich, who replaced Alexander Yaroslav Nevsky in 1263. However, in 1283, our Czar was passed over due to a clerical error and the rule of all Russia went to his second cousin Daniil (Даниил Александрович), whom Czar still resents. As a half-hearted apology, the Czar was awarded control over Muscovy, inconveniently located 5,000 miles away just outside Chicago. He now spends his time seething about this and writing about other stuff that bothers him.