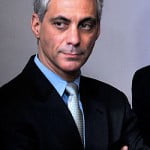 The Czar cannot promise that all aspects of Chicago Public School (CPS) politics will be very interesting, but today's CPS strike is intensely fascinating if largely inside baseball.
Here is our assessment.
Never let a crisis go to waste, even if you have to engineer it from the start.
Chicago elected Rahm Emanuel its first non-Richard M. Daley mayor since 1989. During Daley's tenure as mayor, the Chicago Teachers's Union (CTU) became intensely powerful, allowing Chicago's teachers to be among the best paid in the nation, with the least amount of time actually spent in a classroom. In many ways, the CTU came to own CPS, and in so doing, felt that the mayor of Chicago worked for them. Not figuratively like a politician fighting for their cause, but pretty much literally like a well-positioned servant.
Rahm Emanuel did not take well to some of the strong arm tactics put before him by the CTU. But Emanuel is a cagey, clever fellow: he knew that CPS was failing, and that the CTU is largely responsible. Heck, they could easily destroy his mayorship; even unintentionally.
So the CTU needed to be reined in. But how to do it without looking like Governor Scott Walker up North? Could there be a way to improve CPS and push down the CTU without looking like a, you know, Republican?
This is the sort of challenge Rahm Emanuel loves. And so he did it: he proposed an increase in the length of the school day to meet national averages, and made teachers accountable for the success or failures of individual students in exchange for another increase in pay.
There. Facetime and accountability would almost certainly improve CPS's disastrous reputation somewhat. But how to curb the CTU's out-of-control management?
He announced it in the early summer of an election year. This gave time for the public to hear about the proposal gradually but took the wind out of the sails of the on-vacation teachers. Although horrified emails ricocheted back and forth between CPS teachers, the teachers would not have much of a chance to organize in time. At least not until September.
And what would happen, Rahm Emanuel wondered, if they called for a strike (as they inevitably would, given the hate-filled messages) when they returned to conspire in September?
The public backlash against them would be catastrophic for their PR. One of the old rules of politics, which Mayor Emanuel obviously knows, is that a public sector union never strikes before an election. Public sentiment invariably turns against the strikers.
The CTU was obviously unaware of this political rule; evidence is now coming out that the CTU intended to strike no matter what concessions the city made. And as they are on strike, the teachers are shocked to learn that the city residents are positively appalled. Disgusted. Irate. Some lifelong union Democrats are calling for Rahm Emanuel to fire all striking teachers. The story in Chicago media at the moment is not about the teachers' demands, but about the public outrage. The story is spreading nationally, and the White House has refused to take a side in the cause.
Who is teaching whom the lesson?
Meanwhile, 45,000 kids in Chicago's thirteen all-above-average charter schools are in class today, learning. And the non-union teachers therein are all at work. Those wishing to show solidarity with the CTU are asked to help out in the picket lines after school hours; the Czar expects less than a dozen will, citywide.
Rahm Emanuel might have put it this way: what if you had a revolution and nobody showed up? Ben Franklin might have put it another way: if the CTU and public don't hang together, the CTU will surely hang separately.

Божію Поспѣшествующею Милостію Мы, Дима Грозный Императоръ и Самодержецъ Всероссiйскiй, цѣсарь Московскiй. The Czar was born in the steppes of Russia in 1267, and was cheated out of total control of all Russia upon the death of Boris Mikhailovich, who replaced Alexander Yaroslav Nevsky in 1263. However, in 1283, our Czar was passed over due to a clerical error and the rule of all Russia went to his second cousin Daniil (Даниил Александрович), whom Czar still resents. As a half-hearted apology, the Czar was awarded control over Muscovy, inconveniently located 5,000 miles away just outside Chicago. He now spends his time seething about this and writing about other stuff that bothers him.