The Real Environmental Protection Team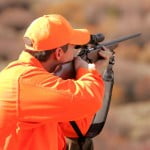 Conservatives want to abolish the EPA, probably because they hate the environment. Also, they support global warming cooling climate change… well whatever it is that makes ice melt at the poles because they hate polar bears. We know this because popular media, blogs, and website comments insist this all the time.
Name two differences between this guy and the EPA. First, he's not using tax payer dollars to save the environment, and second, he does something inarguably tangible.
Okay, so who does more to help the environment: liberals or conservatives? The Czar won't create a strawman here—let's say the answer is neither.
Instead, let us ask it another way: which group of people, as a non-political group, contribute more of their own time and money to conservation, animal welfare, wetlands preservation, wildlife protection, and environmental causes than any other?
Turns out, hunters do. Certainly, a clear majority of hunters do over other groups of non-hunters by 3:1. In other words, if you pick any group of people, the set called "hunters" is three-times more likely to participate in these efforts than all other classes combined.
And it is not just in membership: overall, hunters contribute more money to protecting the environment than non-hunters, and have repeatedly done so for over 70 years.
Conversely, the opposite also proves the opposite: when hunting declines in an area, conservation efforts also fall apart. Even at the state level, the federal government admits, hunters do more than any other group.
You can argue why all you like: hunters want wetlands to shoot ducks, and unspoiled woodlands to bag deer, pristine hillsides to get turkey, and unblemished scrubland to get wild pigs. But what it really comes down to is that hunters do more for the environment than the EPA does, those college kids with clipboards who think signatures save whales, or those high school upperclassmen who pontificate about "the enviremint" combined. Resources, time, and money: in all three categories, you can thank hunters—and not the feds, the state departments of natural resources, not kids on street corners classrooms, nor regulations-writing lawyers or activists. Hunters do.
Now, if you want to question whether hunters are predominantly conservatives or liberals, you may, but you can do your own math.

Божію Поспѣшествующею Милостію Мы, Дима Грозный Императоръ и Самодержецъ Всероссiйскiй, цѣсарь Московскiй. The Czar was born in the steppes of Russia in 1267, and was cheated out of total control of all Russia upon the death of Boris Mikhailovich, who replaced Alexander Yaroslav Nevsky in 1263. However, in 1283, our Czar was passed over due to a clerical error and the rule of all Russia went to his second cousin Daniil (Даниил Александрович), whom Czar still resents. As a half-hearted apology, the Czar was awarded control over Muscovy, inconveniently located 5,000 miles away just outside Chicago. He now spends his time seething about this and writing about other stuff that bothers him.