Ryan Proves Romney Is Serious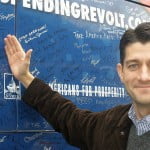 The Czar will admit when he is wrong, and he was sure wrong to have predicted Rob Portman as Romney's eventual running mate. But the Czar had that tip on good authority, and now knows that his authorities are not all that good.
Meet one of the most popular politicians in the last two decades. Never mind that: you already know who he is, and odds are you think he's one of the classiest either party has ever produced.
Okay, so Paul Ryan will be his running mate our next vice-president. Although some of the Czar's castle-dwelling brethren—especially those who normally dwell within Wisconsin—would much rather see Ryan remain as an incredibly effective Congressman, there is little doubt that Ryan was an astonishingly good pick. In fact, it is already hard to imagine Romney doing anything more spectacular in his humdrum campaign. Let's face, there are still plenty of really smart people left in Washington, but Ryan is just about the smartest there is.
The Obama administration, the Czar recently learned, was completely convinced that Tim Pawlenty would be the smart choice: he is a staunch conservative, is "safe," and has gubernatorial experience, and has been sorta friends with Mitt Romney for a while. Consequently, the Axelrod machine had a ton of material to trash Tim Pawlenty and was just waiting for it. Things got so worrisome for the Obama administration that Axelrod himself, a couple of days ago, released a statement to the press strongly advising Mitt Romney to pick Tim Pawlenty. No, not kidding; he really did.
Senator Rob Portman, by contrast, is a squeaky-clean guy who delivered on his campaign promises for years, proved himself quite capable and decisive in his roles within the Senate, and would have been a safe and smart choice. The Obama campaign was braced for this as Plan B, and intended to sandblast Sen. Portman as another Washington insider, and link him to all sorts of speculative and highly imaginative controversies.
Paul Ryan, on the other hand, must be giving Axelrod and company a worst-case scenario. After all, the Democrats have had two years to find something—anything—on Paul Ryan, and the best they could manage was a video of a guy almost looking like him lashing an elderly woman to a wheelchair and then pushing her off a cliff. They might just as well have used clips of Don Adams from Get Smart tripping over stuff and asking if that's what you want as a vice-president.
For years, the Ryan Plan has been vetted by both sides, and the reason Republicans slowly came to embrace his governmental bloodletting plan was because it kept checking out; a large number of House Democrats back it as well. And each time a hostile Democrat, especially the President himself, attempted to find fault with it, the fact-checking backfired and the critic wound up looking like an idiot (remember when Obama had a speech in which he said the Ryan Plan would cause increased hurricanes? This is how bad it gets).
The fact is that no one is better educated on the Ryan Plan than Paul Ryan himself. And having the author of the plan—who has consistently demonstrated the ability to quote from it chapter and verse—sell it to the American public is absolutely essential. Romney backed the Ryan Plan because it works, and having the author as his number two guy is a big deal.
Let us remember that we live in the age of the Cheneyian vice-presidency. Two centuries ago, the vice-president was meant to be a shadow antagonist, the loyal opposition: he was the guy who lost the election for presidency. A century ago, you picked the guy who could deliver you the votes: if you were weak in a part of the country, you picked a guy from that region to help sell your candidacy. In the latter 20th Century, you picked someone who could be an idle messenger—decent enough to be president, sure, but overall someone you sent to funerals and overseas State Department dinners, school openings, and so forth. In 2000, Dick Cheney showed that the vice-president could be a teammate: someone you could put in charge of a problem, push forward your agenda, and get stuff done.
This model worked so well that Barack Obama chose Joe Biden for the same reason: not some guy you put behind the curtain and act as a puppet, but as someone who could run with the football, drive the message home, and mix other metaphors. Republicans are slow to appreciate it, and Democrats sure hate to admit it, but Joe Biden is exactly who Barack Obama wants as vice-president; and no matter how much his administration pretends otherwise, Biden is a reflection of the president himself. Incidentaly, why else did John McCain select Sarah Palin? Not to be some dopey stooge, but because Palin can act as a powerful instrument of policy and command respect from the base voters.
So Paul Ryan is definitely the guy here: he can hold his own without question. Not only is Ryan demonstrably not gaffe-prone, he is a skilled rope-a-dope debater. Have you seen him take on a hostile crowd? He selects one critic, has him stand up, and then lets him keep talking. Eventually, the knucklehead will reveal some asinine or blatantly stupid comment, and only then does Paul Ryan respond. He is as masterful at cutting down opposition as Chris Christie, but without the often obnoxious personality and without the property tax baggage that makes Christie a bit of a hypocrite on the Right.
Holy crap: imagine Ryan debating Biden. A comment by Frank J. Fleming on Twitter last night accurately said that a major debate success for Biden would be not choking on his own necktie. You could have Paul Ryan debate the President; in point of fact, he already has on one notable moment, and sent Obama packing.
Ryan is doubtlessly popular on the Right—he is smart, focused on tax simplification, elimination of spending, and pretty savvy on foreign policy. Individuals who know him personally have told us that Paul Ryan is that classic company president: if he doesn't know the answer, he learns fast and becomes an expert within hours on virtually any subject.
Critics have popped up. One Obama staffer made a mumbled comment this morning that they are disappointed in the pick (we bet!) because Ryan's policies will hurt the elderly and middle class. That's it? No alligators in the streets? No rain of frogs? No murder charges? Just two comments debunked in 2010?
Also, we spotted a fictitious comment that Republicans are concerned about the message Ryan sends to voters…after all, he is a congressman, and right now, Congress is deeply unpopular with voters. Yeah, but Paul Ryan is extremely popular with voters, so stuff it.
That said, Mitt Romney made two related mistakes: first, this should have been announced on Thursday, not Saturday. Everyone knows that major announcements don't get covered on weekends, which is why Presidents of both parties always announce bad news on Saturdays. Romney could have had two full days of free advertising, but now this will be page 14 news by Monday.
Second, announcing this on a weekend will have no resounding effect on Wall Street. The news media—and too many Americans—only understand the economy based on whether the Dow is up or down. Had Romney announced his pick on Thursday, the Dow would certainly have rallied—worrying the President, catching the media's attention, and impressing independents.
Plus, everyone knew it would be Ryan last night, and for those of us who like surprises, an announcement on Thursday would have been delightful. But we will not count this.
Paul Ryan is a powerful force in politics, and while some people like him where his is, the reality is that Democrats fear him more than anyone else. You wanted bold from Romney? You got it.
Because answer the Czar this question: when was the last time we knowingly had a vice-presidential candidate who was so qualified to be president more than vice-president?

Божію Поспѣшествующею Милостію Мы, Дима Грозный Императоръ и Самодержецъ Всероссiйскiй, цѣсарь Московскiй. The Czar was born in the steppes of Russia in 1267, and was cheated out of total control of all Russia upon the death of Boris Mikhailovich, who replaced Alexander Yaroslav Nevsky in 1263. However, in 1283, our Czar was passed over due to a clerical error and the rule of all Russia went to his second cousin Daniil (Даниил Александрович), whom Czar still resents. As a half-hearted apology, the Czar was awarded control over Muscovy, inconveniently located 5,000 miles away just outside Chicago. He now spends his time seething about this and writing about other stuff that bothers him.