Many are going to focus on the Paul Ryan speech last night and don't get me wrong, Mrs. GorT and GorT watched the live coverage from Mike Huckabee's speech through Paul Ryan's speech. Each speech was excellent but I'd like to focus on two in particular: Condoleezza Rice and Susana Martinez.
There are a few themes running through the RNC but the one that running as an undercurrent and that both of these remarkable women demonstrate is that, as an American, you are not confined or restricted to a particular job, economic strata, or other classification label. You have the power and opportunity to set forward towards your own destiny. Hear it in their own words:
| | |
| --- | --- |
| Condi Rice | Susana Martinez |
| And on a personal note: A little girl grows up in Jim Crow Birmingham – the most segregated big city in America," she said. "Her parents can't take her to a movie theater or a restaurant, but they make her believe that even though she can't have a hamburger at the Woolworth's lunch counter, she can be President of the United States. And she becomes the Secretary of State. | Growing up, I never imagined a girl from a border town could one day become a governor. But this is America. Y, en America todo es posible. My parents taught me to never give up and to always believe that my future could be whatever I dreamt it to be. Success, they taught me, is built on the foundation of courage, hard-work and individual responsibility. |
Both women delivered great speeches, and I highly recommend that you go watch them – Condi Rice's is here and Susana Martinez' is here. These women are examples and role models and, in the words of Gov. Martinez, "[they]'re Republicans!"
While I don't know if Dr. Rice is interested in taking any more politically-appointed or nominated roles and Gov. Martinez is doing a great job in New Mexicoand has a lot of potential ahead of her, both would be excellent choices for roles in a Romney-Ryan executive branch. And I hope that the GOP doesn't lose sight of these two, their contributions, and their awesome potential to showcase the true power of being a free American. Sure, we can go down the route that the Democrats would and classify them – minorities, Hispanic woman, African-American woman, etc. We could even tout their beachheads for women and minorities:
first female governor of New Mexico
first female Hispanic governor in the United States
first female African-American Secretary of State
second African-American Secretary of State (after Colin Powell)
first female National Security Advisor
But that's not the point and the GOP wasn't out there touting that – because it was what they did as a person…not as a person of a certain class or status.
Finally, both echoed a second theme that is running through this convention and should be a prominent feature in the campaign against President Obama: his has not demonstrated leadership.
| | |
| --- | --- |
| Condi Rice | Susana Martinez |
| Then, in 2008, the global financial and economic crisis would stun us. And it still reverberates as we deal with unemployment and economic uncertainty and bad policies that cast a pall over an American economy and a recovery that is desperately needed at home and abroad. And we have seen — we have seen that the desire for liberty and freedom is, indeed, universal, as men and women in the Middle East rise up to seize it. Yet, the promise of the Arab spring is engulfed in uncertainty, internal strife, and hostile neighbors our challenging the young, fragile democracy of Iraq. Dictators in Iran and Syria butcher their people and threat to regional security. Russia and China prevent a response, and everyone asks, where does America stand? Indeed — indeed, that is the question of the hour. Where does America stand? You see when the friends or foes alike don't know the answer to that question, unambiguously and clearly, the world is likely to be a more dangerous and chaotic place. And I know too — I know too there is a wariness. I know that it feels as if we have carried these burdens long enough. But we can only know that there is no choice, because one of two things will happen if we don't lead. Either no one will lead and there will be chaos, or someone will fill the vacuum who does not share our values. My fellow Americans, we do not have a choice. We cannot be reluctant to lead and you cannot lead from behind. | In New Mexico, I inherited the largest structural deficit in state history, and our legislature is controlled by Democrats. We don't always agree, but we came together in a bipartisan manner and turned that deficit into a surplus. And we did it without raising taxes. But that is not the kind of leadership that we are seeing from President Obama. He promised to bring us all together, to cut unemployment, to pass immigration reform in his first year, and even promised to cut the deficit in half, in his first term. Do you remember that? But he hasn't come close. They have not even passed a budget in Washington, D.C. In 3 years. |
These remarkable women get it. They know the score. They echo what others in and around Washington on both sides of the aisle have said publicly and privately: President Obama is not leading. It's time for a change and I say we follow these women. Not only in their support but in their examples of perseverance. In the words of Calvin Coolidge (which I had hung on my wall in my bedroom):
Nothing in the world can take the place of persistence.
Talent will not;
nothing is more common than unsuccessful people with talent.
Genius will not; unrewarded genius is almost a proverb. Education will not;
the world is filled with educated derelicts.
Perseverance and determination alone are omnipotent.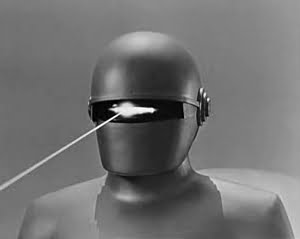 GorT is an eight-foot-tall robot from the 51ˢᵗ Century who routinely time-travels to steal expensive technology from the future and return it to the past for retroinvention. The profits from this pay all the Gormogons' bills, including subsidizing this website. Some of the products he has introduced from the future include oven mitts, the Guinness widget, Oxy-Clean, and Dr. Pepper. Due to his immense cybernetic brain, GorT is able to produce a post in 0.023 seconds and research it in even less time. Only 'Puter spends less time on research. GorT speaks entirely in zeros and ones, but occasionally throws in a ڭ to annoy the Volgi. He is a massive proponent of science, technology, and energy development, and enjoys nothing more than taking the Czar's more interesting scientific theories, going into the past, publishing them as his own, and then returning to take credit for them. He is the only Gormogon who is capable of doing math. Possessed of incredible strength, he understands the awesome responsibility that follows and only uses it to hurt people.