How Obamacare Rations Delivery of Health Care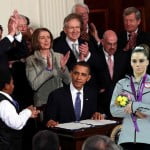 Obamacare? Not impressed!
Whether you live in a free-market economy or a top-down command and control communist economy, all goods and services are rationed.
In the abstract, in a free-market economy, goods and services are rationed by the actions of the consumer as reflected in the ebb and flow of supply and demand. In a communist society, the government, who owns the means of production decides what will be produced by whom and when.
Scarcity occurs when demand exceeds supply. In the free market this is corrected by a natural rise in prices allowing individuals to decide for themselves when a product's price is too high for them to purchase. In the communist society this is corrected by handing out surplus shoes in the bread line.
Healthcare, despite what the left tells you, is not a right, but rather a commodity. Dr. J. has said in the past that the third party payor system in the US creates perverse incentives resulting in over-utilization of the system and unnecessarily driving up costs to the consumer in the form of premium hikes. Furthermore there are no clear price tags on services provided because everyone pays a different price based on different deal cut between the patient's insure and doctor's network. There are exceptions to the rule, such as the 'doc-in-the-box' which is being used more and more by actual physicians and their familes. A surgeon at NAITMC* takes his kids to the local Walgreen's clinic for sports physicals. Ease of use trumps cost to him, and he is sufficently satisfied that they're getting a quality product. Generics being sold for much cheaper than the typical medication co-pay is also a game changer.
There is a shortage looming on the horizon. There is going to be an increase in demand as Obamacare kicks in with its increase in 'free exams'. There is going to be a decrease in supply of doctor's due to a combination of doctors leaving medicine, being disincentivized from seeing extra patients due to becoming essentially salaried. Dr. J. has talked about this
here
,
here
and
here
.
Meredith Viera chose a private doctor over NHS for a thumb injury in London during the Olympics. She also chooses not to wear underwear, but that's a different story…
Today John C. Goodman reminds us of these issues in the Wall Street Journal
a must-read article
:
When demand exceeds supply in a normal market, the price rises until it reaches a market-clearing level. But in this country, as in other developed nations, Americans do not primarily pay for care with their own money. They pay with time.
How long does it take you on the phone to make an appointment to see a doctor? How many days do you have to wait before she can see you? How long does it take to get to the doctor's office? Once there, how long do you have to wait before being seen? These are all non-price barriers to care, and there is substantial evidence that they are more important in deterring care than the fee the doctor charges, even for low-income patients.
Here, Mr. Goodman reminds us that rationing at present is in wait times. Dr. J. has been witness to how things work in public hospitals (both city and Federally run) and trust him when he says that you can get comparable quality but with much longer waits.
When demand exceeds supply, doctors have a great deal of flexibility about who they see and when they see them. Not surprisingly, they tend to see those patients first who pay the highest fees. A New York Times survey of dermatologists in 2008 for example, found an extensive two-tiered system. For patients in need of services covered by Medicare, the typical wait to see a doctor was two or three weeks, and the appointments were made by answering machine. However, for Botox and other treatments not covered by Medicare (and for which patients pay the market price out of pocket), appointments to see those same doctors were often available on the same day, and they were made by live receptionists.
As physicians increasingly have to allocate their time, patients in plans that pay below-market prices will likely wait longest. Those patients will be the elderly and the disabled on Medicare, low-income families on Medicaid, and (if the Massachusetts model is followed) people with subsidized insurance acquired in ObamaCare's newly created health insurance exchanges.
Their wait will only become longer as more and more Americans turn to concierge medicine for their care. Although the model differs from region to region and doctor to doctor, concierge medicine basically means that patients pay doctors to be their agents, rather than the agents of third-party-payers such as insurance companies or government bureaucracies.
In other words, patients get in quicker for services NOT COVERED that they are paying for out of pocket. So all of those 'free exams' 'free pap smears' 'free sterilizations' and 'free abortions' will now wait longer to be performed, probably a good thing if the wait for abortions ends up exceeding 40 weeks.
The Pelosi Congress chose to exempt themselves from the shackles of Obamacare…did Dr. J. say shackle? Yes he did…
Concierge medicine will be a workaround for rationing care. With concierge medicine, you pay a doctor $2000 a year to be your medical agent, so to speak. They perform primary care duties and hook you up with specialized services. A doctor who typically cares for 2500 in his panel goes down to 500. He will bring in $1,000,000 in gross revenue per year, and probably after overhead clear at least $300,000. The problem is you need 5 concierge doctors to do the job of one in the old system. We aren't making new doctors that fast, so again, scarcity will occur.
In Dr. J.'s eyes, the choice is clear. If you want you want more ready access to health care at the best prices, a market approach to health care is far superior to a single-payer model. Health insurance should be for the big things, while health savings accounts should cover the smaller things. When doctors and patients will then have a sense of how much things cost, rational decisions will be made, and decisions will be made that are not one-size-fits-all or choices made for you. The choices made will be the choices that you make and they will be the ones right for you.
So when it comes time to make a choice in November, do you want to be in control of your health care decisions or not? With Obamacare you will have less access, greater cost, and most importantly, less choices.
*New Atlantis Ivory Tower Medical Center