Don't Come Back, McCotter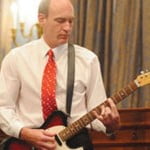 Remember good old Thad McCotter? He was a US Representative from Michigan who flirted dangerously long with running for President on the Republican ticket. Why, he was so good at running for President that he sorta forgot to run for re-election as a congressman, and at the last moment, he found when it came to petitions for the ballot that he was a "tad" short (Hah! Now that's the kind of clever snark you don't get from WaPo anymore).
This whole schtick was weird; now it just shows he was a dork on top of everything else.
So, the Thad McCotter campaign did the next best thing, in its mind: they forged about a thousand signatures. When this was discovered, McCotter realized he was about to lose his job. So he announced a write-in candidacy! Brilliant! When it became clear that voters would be less likely to vote for a write-in fraud, McCotter did at least something mildly honorable and resigned from Congress.
Eventually, the Michigan State Attorney concluded, McCotter was not the mastermind of the forged petitions, but certainly bore responsibility for the four accused who did; the legal process is moving against them for election fraud violation. McCotter now says the whole investigation was his idea:
I thank the Attorney General and his office for their earnest, thorough work on this investigation, which I requested, and their subsequent report.
Sure, whatever you say. No doubt you set the whole thing up.
Republicans want a voter identification solution in place, while Democrats keeps insisting that voter fraud really doesn't exist. Well, how nice of the Republicans in Michigan to prove voter fraud exists. The Czar would not be surprised if his seat flips to a Democrat; McCotter deserves to be out of politics entirely even if not. Maybe the GOP used to tolerate a little crap like this, but things are changing. In a time when Republicans are proving to American voters that they will take the high road, this comes at a stupendously bad time.
Look, it's like this: an organization is like an intelligent organism; it thinks from the head down. Maybe McCotter didn't forge the signatures; but he created or at least tolerated an internal culture in which dirty politics were permissible. And for that, he's also an idiot.
Farewell. And good riddance.

Божію Поспѣшествующею Милостію Мы, Дима Грозный Императоръ и Самодержецъ Всероссiйскiй, цѣсарь Московскiй. The Czar was born in the steppes of Russia in 1267, and was cheated out of total control of all Russia upon the death of Boris Mikhailovich, who replaced Alexander Yaroslav Nevsky in 1263. However, in 1283, our Czar was passed over due to a clerical error and the rule of all Russia went to his second cousin Daniil (Даниил Александрович), whom Czar still resents. As a half-hearted apology, the Czar was awarded control over Muscovy, inconveniently located 5,000 miles away just outside Chicago. He now spends his time seething about this and writing about other stuff that bothers him.