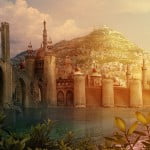 Minion Nightfly (yes, he's a superhero) writes:
That picture of the citadel at Aleppo seems very familiar… it greatly resembles the description (and the wonderful illustration by Pauline Baynes) of the city of Tashbaan in C.S. Lewis's The Horse and His Boy. You can't quite make out where the Splendor Hyaline would have weighed anchor for the Narnians' visit of state, but the great bridge where Shasta and his traveling party entered the city is clearly visible. It wouldn't surprise me at all if Lewis had been familiar with the source material, or at least the illustration.
Confucius has never been to Narnia, so he knows not if the comparison is apt, but for those who vacation via furniture, there you go.
Tashbaan by Alexandra Semushina, d/b/a Sedeptra at DeviantArt. You really should click through on the title. It's spectacular.

Don't ask impertinent questions like that jackass Adept Lu.