To Save Itself Dodge Resurrects 'Puter's First Ride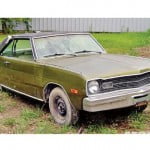 This is the closest image 'Puter could locate
to show the true beauty of his first car.
In or about 1985, the State of Maryland ("America in Miniature"**) issued 'Puter his driver's license. From that fateful day forward, 'Puter was unleashed on the motoring world.
Sure, 'Puter drove his parents' cars for a while. 'Puter's Dad was proudly behind the wheel of a 1984 Chevy Cavalier, possibly the crappiest car ever made, bar none. 'Puter's Mom unleashed her inner beast on the roads in a spectacularly reliable, yet unattractive and underpowered 1980 Volvo DL station wagon. Needless to say, 'Puter was not getting lucky on the basis of his slick vehicles.
'Puter complained and complained and complained to his parents that the current situation sucked. After all, 'Puter's next-youngest sibling was only 13 months younger than 'Puter, so certainly the 'Puter Family needed at least three vehicles for the four drivers it would soon have.
'Puter's parents being parents devised a marvelously diabolical plan. They conspired with Granny 'Puter to purchase her 1972 Dodge Dart Swinger, similar in color and styling to the one above. Here's the actual advertising, showing 'Puter's completely uncool new ride (third from top, actual color) in all its awful glory.
But the plan didn't quite work out the way 'Puter's parents had intended. His new ride was so uncool it was cool. From its no support pillar windows that created a massively open environment from which to jettison half-drunk Slurpees, to its new-fangled lap belts with attachable shoulder belts than hung limply from the roof and never quite stayed put, to its all-vinyl-burn-your-ass-off-in-DC's-infernal-summer-heat interior, to its pleather-coated roof, to its puke-green color (PPG and Dodge called it "bright yellow green poly,", to its exceptionally cheesy Swinger logo badging, the car was so darned unlovable that 'Puter fell in love with it. 'Puter also loved its lack of niceties. The Swinger (pronounced "SWON zhay" in the French manner) had no power windows, no power locks and vent boxes under the dash that opened to provide ventilation fresh off the screamingly hot engine. What the Swinger did have was a 318 cubic inch V8 engine that generated a rather peppy 150 horsepower, making it quick for its weight. Surprisingly, the Swinger also had power steering (sluggish), power brakes (tended to lock up the rear drums)*** and an automatic transmission. It also had a totally bitchin' AM radio on which, from the comfort of OEV's childhood driveway, 'Puter listened to the Easter Epic four overtime period Capitals Islanders Game 7 starting April 18, 1987 and ending early on April 19, 1987 while home on Easter Break from college.
Now 'Puter learns that Dodge is resurrecting the Dart to save Chrysler from certain bankruptcy, much as the Reliant K and the minivan did before it. 'Puter hesitated. Could the new Dart do its butt-ugly predecessor justice? Could this be a car he could love again? Heck, if the New York Times liked it, how good could it be? It's probably powered by sails and improvised solar panels with an interior made from hemp fabric, so as to be environmentally pure enough for the "car guys" at the New York Times.
'Puter's not certain, but the 2013 Dodge Dart RT could be a car he could love. This top of the line package comes standard with a four cylinder, 184 horsepower, 2.4 liter Tigershark motor and a six speed manual transmission. Autoweek likes the new Dart. So does Road and Track. Motor Trend, not so much.
'Puter's going to keep an eye on the new Dodge Dart, if only for old time's sake. 'Puter's more than curious how the top-of-the-line RT package will rate when tested, particularly with the six speed manual.
And, if God loves 'Puter, Dodge will put out a Swinger coupe model with its new-for-2013 5.7 liter V8 Hemi motor married to a competition six speed manual transmission. That's when 'Puter's running to the dealership, checkbook in hand, Mrs. 'Puter on his back punching repeatedly in the back of his enormous melon with her nicest brass knuckles.
**For real. Someone actually wandered around Maryland and thought, "Heck, Maryland's got it all going on, what with the Great Lakes (no natural lakes in Maryland), its endless Great Plains (strategically located just outside of Scaggsville (motto: "Chock Full of Loose, Ugly Women Since 1795!")), its barren and arid deserts (pretty much any part of Baltimore outside the Inner Harbor), it's just as if I'd traveled all of America without ever leaving its tiny borders!" 'Puter's first and only recollection of anyone ever using "America in Miniature" to refer to Maryland was at a Democratic Convention, probably in 1992, when Senator Barbara Mikulski announced Maryland's delegate vote during the state roll call. 'Puter recalls doubling over with laugther at the time, mostly because Sen. Mikulski is so dimunitive she looked like a member of the Lollipop Guild. Seriously, Maryland. Give it up. No one will ever mistake you for America, minaiture or otherwise. At least until you get some dignity, declare Baltimore a free-fire zone, indict your corrupt Democrat ruling party and elect a few moderate Republicans, for goodness' sake.
***'Puter got the bright idea he could replace the Swinger's failing and leaking master cylinder on his own. GorT and GorT's equally tall, metallic and time-traveling father bailed 'Puter out, finishing the job for 'Puter when he realized he was in way over his head. True story.

Always right, unless he isn't, the infallible Ghettoputer F. X. Gormogons claims to be an in-law of the Volgi, although no one really believes this.
'Puter carefully follows economic and financial trends, legal affairs, and serves as the Gormogons' financial and legal advisor. He successfully defended us against a lawsuit from a liquor distributor worth hundreds of thousands of dollars in unpaid deliveries of bootleg shandies.
The Geep has an IQ so high it is untestable and attempts to measure it have resulted in dangerously unstable results as well as injuries to researchers. Coincidentally, he publishes intelligence tests as a side gig.
His sarcasm is so highly developed it borders on the psychic, and he is often able to insult a person even before meeting them. 'Puter enjoys hunting small game with 000 slugs and punt guns, correcting homilies in real time at Mass, and undermining unions. 'Puter likes to wear a hockey mask and carry an axe into public campgrounds, where he bursts into people's tents and screams. As you might expect, he has been shot several times but remains completely undeterred.
He assures us that his obsessive fawning over news stories involving women teachers sleeping with young students is not Freudian in any way, although he admits something similar once happened to him. Uniquely, 'Puter is unable to speak, read, or write Russian, but he is able to sing it fluently.
Geep joined the order in the mid-1980s. He arrived at the Castle door with dozens of steamer trunks and an inarticulate hissing creature of astonishingly low intelligence he calls "Sleestak." Ghettoputer appears to make his wishes known to Sleestak, although no one is sure whether this is the result of complex sign language, expert body posture reading, or simply beating Sleestak with a rubber mallet.
'Puter suggests the Czar suck it.