There Are No Mountains In Space….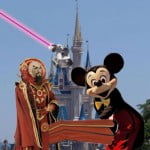 Your most inscrutable Mandarin is on a wonderful vacation with his family at Walt Disney World.
Your Mandarin is really enjoying this vacation. Whether it's adding a little more realism to the Haunted Mansion, offering park staff suggestions on improving the animatronic characters (i.e. heat vision, whirling saw blades, or finger-tip flame-throwers) at the Hall of Presidents, or wrestling the musical bears at the Country Bear Jamboree, he does it with a sense of child-like innocence and joy that he has not felt in centuries.
Although the one dark spot has been when your Mandarin was accosted by this impeccably dressed rodent for installing a laser on the castle. Then again, you know the old saying – you can take the boy out of the Plateau of Leng, but you can't take the Plateau of Leng out of the boy.
It may be a small world, but it belongs to me!
Well, your Mandarin is off to Epcot to tell the French pavilion just what he thinks about their foreign policy.

The Mandarin, whose real name is 吏恆, joined the order in 1309, and introduced the Gormogons into England during the 18th Century.
The Mandarin enjoys spending time with his pet manticore, Βάρἰκος, or Barry (who can be found in the Bestiary). When not in the Castle…well, frankly, nobody is quite sure where he goes.
The Mandarin popularized the fine art of "gut booting," by which he delivers a powerful kick to the stomach of anyone that annoys him. Although nearly universal today, the act of gut booting or threatening someone or something with a gut boot is solely due to him.