Science News: Now With Less Science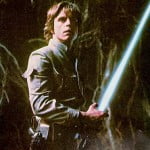 Science writer George Dvorsky has a really fascinating and informative piece up at io9 cleverly titled "Intense Magnetic Fields Around White Dwarfs Reveal an Entirely New Class of Molecular Bonding," in which he reviews how the incredible magnetic fields around white dwarf stars can create a type of exotic molecule never originally anticipated by science.
You can tell this post is about science because of all the science in this picture.
Basically, you chem majors will recall there are two types of molecular bonds: the ionic (where electrons transfer between atoms) and covalent (where electrons orbit more than one atom). Basically, the super-strong magnetic fields around white dwarfs can create a whole new type of bond: the perpendicular paramagnetic bond.
In short, the intense magnetic fields around these stars can force the electrons around two atoms to line up and hold the atoms together; this can even theoretically create molecules out of pure helium, which generally can't happen.
Anyway, George Dvorsky wrote a short, timely, interesting scientific article using simple language and concepts that got all the fundamental aspects of the science correct.
This hardly ever happens, and it is clear to the Czar that Mr. Dvorsky will never make it in mainstream scientific reporting. Here are his mistakes.
First, there is no misapplied pop culture tie-in to arrest the attention of the reader. How about "Remember when Luke Skywalker built a light saber using unknown physics? Science may have taken a significant step closer to that reality by an alarming discovery about molecules!" He should have started with that incorrect statement, otherwise people might not realize you were talking about science without a Star Wars reference.
Then, hit them with the three rules of scientific journalism explanation: 1. Present a cut and paste description of the study, 2. Explain the basic science but not the actual discovery, and 3. Throw in some high school science you do remember but has nothing to do with the study.
To whit: "Scientists have determined that a form of molecular bonding known as perpendicular paramagnetic bonding could occur in the vicinities of white dwarf stars, where magnetic fields of 105 Tesla are not uncommon. Chemistry generally recognizes only two types of bonds, ionic and covalent bonds, which involve electrons and atoms. Water, for example, is a bond of hydrogen and oxygen."
Sometimes you have to throw out what you know.Another missed opportunity for Mr. Dvorak is that his pull quote uses a scientist actually familiar with the history and implications of the discovery. A real science journalist, say one on CNN, would interview a scientist who has little to do with the study, and then select quotes that have nothing to say at all. "'This is pretty cool stuff,' says Dr. Emily Jaworsky of UCLA's sociology department. 'It just goes to show that science is all about adaptation and learning, and sometimes you have to throw out what you know.'" By the way, that last line makes a great pull quote, such as you see here.
Dvorsky does of course indicate that study has very important implications, including the ability to solve some complex computing system problems. However, he doesn't quite MSNBC it enough. Might we suggest: "Whether this discovery will usher in clean drinking water for the world is hard to say. But when science discovers a new type of molecule, and when you consider that water is a molecule, it looks like the sky's the limit."
See how easy this is? Of course, if George Dvorsky wants to go on writing technically correct, enjoyable, interesting, and illuminating fact pieces, that's fine by us because we will read them. But he's never going to become promoted to Presentation Meteorologist on an airport news channel with his anti-fluff attitude.

Божію Поспѣшествующею Милостію Мы, Дима Грозный Императоръ и Самодержецъ Всероссiйскiй, цѣсарь Московскiй. The Czar was born in the steppes of Russia in 1267, and was cheated out of total control of all Russia upon the death of Boris Mikhailovich, who replaced Alexander Yaroslav Nevsky in 1263. However, in 1283, our Czar was passed over due to a clerical error and the rule of all Russia went to his second cousin Daniil (Даниил Александрович), whom Czar still resents. As a half-hearted apology, the Czar was awarded control over Muscovy, inconveniently located 5,000 miles away just outside Chicago. He now spends his time seething about this and writing about other stuff that bothers him.