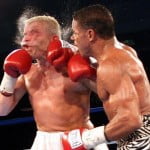 So Mitt Romney outsourced a whole bunch of jobs to poor people when he was governor, except he didn't. But that's okay, because the Obama campaign is going to keep running with that.
Mitt needs just a couple of these between now and the election. Especially in the swing states.
Also, Mitt Romney is an out-of-touch wealthy guy who jet skis and has Swiss bank accounts. Not like the President, who attends million dollar fundraisers with his own fashion line, and vacations constantly in luxurious spots. But never mind that second part; let's go back to how decadent Mitt Romney must be.
Like when he savaged a gay classmate but didn't. Or how he tortured his dog, but really didn't. Did you know half of the claims don't even make it to the news? They're so far-fetched that even David Axelrod rolls his eyes at the preposterous nature of them all.
As many of you know, it's July. And we are seeing how pathetically desperate the Obama campaign is getting. They have, evidently, nothing on Mitt Romney—which is terrible when your whole re-election effort must ipso facto be trained on smearing him.
Desperation is curious, because it becomes the least subtle motivation behind strategy. Anybody can see it. Americans laughed off the Obama-supports-same-sex-marriage charade, just as they ridiculed promising jobs that don't exist to children of illegal aliens.
And for the President to suggest extending Bush-era tax cuts—yes, evidently the same Bush who created this terrible economy for Barack Obama—is merely showing up to a gun fight with a knife; the Republicans in Congress so want to go there. Yeah, let's compare a one-year tax cut extension worth hundreds of dollars with the impending thousands of dollars Obamacare will cost the same folks.
Abraham Lincoln, a president who allegedly favorably compares with Barack Obama, made a comment about trying to fool all of the people all of the time. The President is betting you're too ignorant to know that quote.
The gnawing panic is obvious; the Obama campaign is now well aware they are slowly losing support… not merely aware they could lose, but well aware they are out of gas with months to go.
And while the Czar berates and ridicules the Mitt Romney campaign for stuff like this:
President Obama accused challenger Mitt Romney of being out of touch and unlikeable. Mitt Romney countered that his multiphase analysis offers a contra-positive assessment based on metrics using six different axes.
…the Czar is hoping that Mitt Romney's campaign is counting on these continued unforced errors until the convention.
Maybe. But as anybody who boxes can tell you, a rope-a-dope strategy doesn't always work (see McCain, John, 2008 Campaign, Supplication Slapdown). If your opponent is teetering and staggering and missing punches, now would be a good time beat him back into his corner and turn the crowd your way.
Because Americans like to root for the underdog, and right now, Barack Obama is the underdog; which is why his popularity numbers are being buoyed.

Божію Поспѣшествующею Милостію Мы, Дима Грозный Императоръ и Самодержецъ Всероссiйскiй, цѣсарь Московскiй. The Czar was born in the steppes of Russia in 1267, and was cheated out of total control of all Russia upon the death of Boris Mikhailovich, who replaced Alexander Yaroslav Nevsky in 1263. However, in 1283, our Czar was passed over due to a clerical error and the rule of all Russia went to his second cousin Daniil (Даниил Александрович), whom Czar still resents. As a half-hearted apology, the Czar was awarded control over Muscovy, inconveniently located 5,000 miles away just outside Chicago. He now spends his time seething about this and writing about other stuff that bothers him.