The Problem with Third Party Payors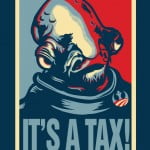 The Galactic Senate also voted away its citizens' freedom…
Dr. J. has said many times (and use our De Gormogonorum Mysteriis to search if you don't believe him) that if you want high quality healthcare at the lowest costs possible, the patient, and not his insurer (be it private or public) has to have the principal power of the purse.
When patients are put in the position of controlling their health care dollars they make rational economic decisions. They ask for generic medications rather than eschew them. They go to a 'Doc-in-the-box' rather than the ER as the cost is posted and usually less out of pocket than going to the ER would end up being. These are just the modern examples.
Back in the day, Mama J., who didn't' necessarily work outside the home would wait a day or two before taking Dr. J. in for a fever. Sore throat, she took him in instantly, but that's a different story. Papa J. paid for his medicines, paid for his doctor's visits, but when our costs exceeded a certain dollar value, health insurance kicked in and paid the rest. No co-pays, no freebies brought to you by other peoples tax dollars.
The doctor, too, had a better handle on things with regard to cost containment because:
a) he had an idea how much things cost, as he was the one writing the bill
and
b) the patient, who was for most things, cutting a check, would ask him, 'Do I really need that test/treatment, what are my options?' rather than, 'I want the brand new ICD with Opti-Vol™ Technology and a Rhythm Discriminator instead of the single lead shock box ICD, I don't care how much it costs because I haz teh insuranzes!!!!'
Health insurance costs have spiraled out of control in large part due to the fact that the individuals receiving the commodity are not, in large part, paying for the service. As a consequence they, themselves do not act as a financial check on cost.
Yesterday, Dan Henninger takes up this issue in the Wall Street Journal. His focus is on Obamacare, especially in the context that the law has been upheld in large part by the Supreme Court.
He makes a few interesting points:
A Wall Street Journal story the day after the Supreme Court ruling examined in detail its impact across the "health sector." The words "doctor," "physician" and "nurse" appeared nowhere in this report. The piece, however, did cite the view of one CEO who runs a chain of hospitals, explaining how they'd deal with the law's expected $155 billion in compensation cuts. "We will make it up in volume," he said.
Volume? Would that be another word for human beings? It is now. At Obama Memorial, docs won't be treating patients. They'll be processing "volume." And then, with what time and energy remains in the day, they'll be inputting medical data to comply with the law's new Physician Quality Reporting System (PQRS), lodged in the Centers for Medicare and Medicaid.
The fact is that doctors, in order to maintain their salaries and cover the costs of the legions of support bureaucrats that have sprung up around him as if they were grown from dragon's teeth, have to see more patients then they did in the past. This is harder as reimbursement per unit of work has gone down. These bureaucrats exist to insure that the doctor is appropriately documenting and coding every patient encounter. Indeed the time saved by the electronic medical record has been lost by increased requirements in documentation to prove that a patient encounter occurred and the complexity of the medical decision making was indeed what it was.
The problem has gotten so bad that Dr. J.'s newest minion, after three years of residency is suffering from work related CARPEL TUNNEL SYNDROME! You don't get carpel tunnel syndrome from performing histories, and physical exams, or placing central lines, arterial lines and doing lumbar punctures. You get it from TYPING! A young trainee should not be doing so much clerical work that he has to wear a wrist immobilizer.
He goes on to discuss a major opinion piece published in the Journal of the American Medical Association (yes that AMA) which discusses the idea that all of the regulations, guidelines and quality benchmarks have been demoralizing to doctors and have turned what is an art and profession into just a job for the doctors. Dr. J. sees it in some of his residents, as they see much of their patient care duties as 'something to get done until shift change' rather than a patient to be cared for and helped.
Given that a majority of Americans want Obamacare gone (remember, just because a law is constitutional doesn't mean its a good idea, the SCOTUS is not the Good Housekeeping Seal of Approval, nor is it the Gormogonical Seal of Approval). But Americans also want to be able to feel assured their health care needs will not bankrupt them. Unfortunately for decades they have been told by liberals that health care is a 'right' and therefore should be 'free.' Those lies made having an honest conversation virtually impossible, especially given most people look at their take-home pay, and their co-pay, and everything else is money that they don't see.
The Republicans need to be able to convey that the patients are the best stewards of their own healthcare dollars and their plan needs to give patients the freedom to be patients and the doctors to be doctors. Then and only then will the cost curve bend downward.