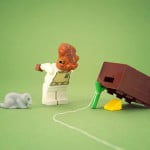 Despite all of the
hype
surrounding
the possibility that Mitt Romney may pick Condi Rice has his VP, Dr. J. suspects that he will not, because despite her plusses (intelligent, charismatic, very knowledgeable regarding foreign policy), she has some minuses (too nice to Palestine and North Korea, pro-gay marriage, pro-choice) that will alienate the base.
It's a trap!
There are
theories
over at NRO suggesting that talk of Rice as VP are being floated by those attempting to be helpful to in order to distract from the silly Bain-trovercy of the week. Unfortunately, this distraction has a downside.
Dr. J. predicts that when Romney does not pick Rice, he will be pilloried as sexist and racist for
not
doing so. So when he does make his announcement, he needs to be prepared for that contingency.
No matter who he picks, the Left will keen like banshees at how reactionary and tone deaf his choice is, even if he picked Hillary Clinton, they'd scream. The louder they scream, the better the choice is, in Dr. J.'s opinion.
Dr. J. is hoping for Ryan, but will settle for Jindal, Portman Rubio, or maybe even Bolton.