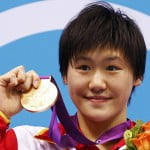 The thrill of victory…
This article was linked to on Drudge, the other day. Basically, Ye Shiwen, a female Chinese swimmer and 2012 gold medalist enjoyed a 28.9(3) split in the last 50 m of the women's 400 IM, compared to 29.1 seconds in Ryan Lochte's final 50m. The difference was about two tenths of a second.
At first glance, Dr. J. found this peculiar. Not so much because she broke the world record by a second, that happens often enough in Olympic swimming, but because she also beat her personal best by five seconds, something rather profound. Not unheard of, but profound.
Then Dr. J. then reflected some more. Ryan Lochte, as great as he is, isn't a finisher in the races that Dr. J. has watched. He has observed Mr. Lochte's competition catching up with him, especially in longer races. He doesn't pace himself in the way other swimmers do.
But what convinced Dr. J. that this is more likely a bunch of media horsepucky in order to drum up some drama than a case of actual doping, (other than Ye's fresh faced youthful appearance, as noted above) was something a friend of his posted on her Facebook page. She swam at Ivy University when Dr. J. was there. This friend is a reliable source as she missed qualifying for the Seoul games by hundredths of a second and the Barcelona games by quite a bit more, because of something involving strength to mass ratio and a poorly timed taper. In other words she has some serious swimming bona fides that Dr. J. does not have.
This is what she had to say:
In 1981, 16-year-old Mary T. Meagher had a 32.27s split in the final 50m as she set the world record in the women's 200 butterfly in 1981. This time is as fast, or faster than four of the semifinalists' final 50m splits in the men's 200m butterfly during this year's U.S. Olympic Trials — 31 years later.
Dr. J. suspects that the difference here is between speed and stamina. If Ye and Lochte were to race each other in a 50m freestyle sprint, there is very little doubt that Lochte would prevail. That being said there is a hell of a lot of difference between a 50m sprint and a 50m sprint after 350m of IMing.
…and the agony of defeat. Gosh, Dr. J. misses ABC coverage!
Controversy the second, revisiting Ms. Wieber's trevails. Dr. J. doesn't think he convincingly explained why the rules as they exist stuck in his craw.
Dr. J. finds it perfectly reasonable that no more than two (or any other arbitrary number of athletes) represent a nation in a given sport/event. This is an international showcase after all. The problem is that in swimming and track, those American athletes are determined after the U.S. team trials in the good ole U.S. of A. Substitutions happen at the games, but those are the exception, rather than the rule.
In gymnastics, the participants in individual all-around and apparatus finals are determined at the Olympics based on who puts in the best performance at qualifiers. It is also determined before the team all-around finals where the team needs that third person at their physical and mental best. Dr. J. just thinks if only two are going to go to the individual all-around final, that it is best for said third place athlete's sanity and upcoming performance that that be determined in advance. Trust Dr. J. on that. He got an A in psychiatry…