#Mandles – A hashtag waiting to happen…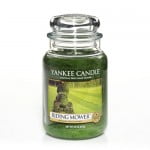 Dr. J. was listening to the New Atlantis AM AM guy on the radio today on the drive to work, and this Businessweek article became the target of ridicule.
Apparently the Yankee Candle company (the company that makes the ones your wife keeps in the kitchen cabinet and lights up when she's cutting an onion, or after she's cleaned up the kitchen*) is marketing candles to men. Now this gave Dr. J. a chuckle, because in an era of bromances, man-bags, man-icures, and bronies, it was only a matter of time before mandles made it on the scene.
Now check out these scents:
I love the smell of cut lawns in the morning…it smells like victory…
Mmmm…woodshoptastic…actually Dr. J.'s worst grade was a B- in 8th grade woodshop…
Real Corinthian Leather…God Rest Ricardo Montalban's Soul…KHAAAAAAAAAAAN!!!!!!
Man Town? This one's too easy. Puter?
This got Dr. J. thinking, given that there are 400 scents marketed to women and only 4 to men, what scents are MIA?
Bacon
Hickory Smoker
Burnt Diesel
Kentucky Bourbon
New Car
Gun Oil
Bait Shop
Oil Change
Pale Ale
Ghee
Cordite
Bar Refali
Bacon
Pappy's Pipe
Flint & Steel
Beef Jerky
Brake Dust
Chili Garlic Sauce
WD-40
Motorboat
Bacon
Given Dr. J.'s proclivity for
hydrophobic gifts
for his Gormogon brethren, he may have to get 2-1B to whip up some new scents by Christmas.
* Not that cooking and cleaning is exclusively woman's work, most of your Gormogons are very good cooks and furthermore, Dr. J. cleans up the kitchen when he's done, but he doesn't light a candle as his coup de grace.