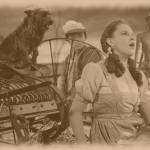 Oh, Dat Ho, it's a twister!
You call him derecho, lady.
First of all, a big shout out to the service folks who, by trade, are required to work in this summer heat – the police, firemen, EMS, water, gas and electrical repair crews, delivery people and our postal carriers. GorT has the luxury of working from an air conditioned office with views of the oppressive weather and is thankful for the modern services he and his family enjoys.
Now, our beloved postal carrier was kind enough to drop off the following from MC 900ft Meteorologist (I'm hoping MC continues to comment on climate and meteorological matters as I'm sure we'll have a few in the future).
Good evening, mighty Gort, ye of the silver skin and bitchin' heat ray [GorT: yeah, sorry, I think I can get the heat ray to shut off sometime Sunday afternoon],

"Derecho", in this context, is derived from the "straight" meaning in Spanish. Derecho was selected to contrast it with "tornado", which is derived from Spanish and Latin roots meaning "to turn" indicating the rotational nature of those storms. Derechos are composed of straight-line winds which are in the same direction as the storm's motion and perpendicular to the line of storms. The damage from a derecho is thus very linear in nature, where all the trees, corn, power poles, are all blown down in the same direction.
Thanks – my commentary on the nomenclature was intended largely comical (thanks to the
Czar for pulling that thread
) and curiosity as to why the lingua franca of weather is Spanish…but again, not of great concern. However, a storm is a thing, therefore a noun, but the form of the Spanish word chosen is an adverb. A little odd. He continues:
As the video shows, the origins of this event were early Friday morning over northwest Illinois. However, many such linear thunderstorm complexes form and die within a few hours, and there was nothing in particular early that morning that indicated this particular storm would persist well into the night and reach the coast. By midafternoon, though, as the storms were maintaining and intensifying in strength over eastern Indiana, the Storm Prediction Center did indicate the complex could stay organized and maintain intensity into the Delmarva region.

Derecho events are hard to forecast until they are underway. Oftentimes conditions are favorable for them, but why one complex will hang together for 24 hours with persistent damaging winds and another doesn't can be mysterious. Subtle terrain and meteorological features can disrupt the storm's organization and they weaken and die. Global warming, if it existed, wouldn't have jack to do with this.
MC then hits on something that I've been trying to work up a post about: why is the period from the 1970s or 1980s onward so bad climate-change-wise:
(BTW, why is it assumed the period from roughly 1950 to 1980 is the earth's "normal" and what's happened since is not? Besides there was nasty crap in that period too, like the droughts of the 50s and the hellacious snowstorms of the late 70s. Give people two or three easy summers and follow it with a hot one and they get all eleventy on you about it. But I digress….
He then continues with the specifics of the storm:
Meteorologically speaking, this event was unremarkable. I think the highest reported wind at an official station was on the order of 90 mph and most max wind gusts seemed to be in the 70-75 mph range in/east of the Appalachians. Not your ordinary thunderstorm event, but not a top 10 or top 50 on the "best derecho" list.

Had a similar event happened over the Plains and Midwest, it might possibly have been in the weather section on the news websites for a day or so and the handful of power outages fixed in that time too. Because the storm location also happened to coincide with an apparently vulnerable power grid right next to readily-available media coverage, it's now (as Joe Biden might say) a big f***in' deal. If a storm this ordinary knocks out power to millions initially and that number is still in the six-figure ballpark for 5-7 days, that means your grid sucks, not that the storm was unusually strong. Other regions of the country (even regions with those unusual plants called "trees" just like Pepco's service area) get storms like this and don't have their grid this fouled up.

So we have an atypical but still ordinary weather event with a cool name, striking a power grid that's probably minus-two-sigma on the maintenance/design bell curve, and in a region that is plus-four-sigma on reporters per square mile. Presto, instant apocalypse.
So, thanks, MC for writing in – always great to get input from someone in the field and knowledgeable. The Mandarin is beaming you a Dat Ho weathervane. We'll need him back in a few days to restock the moat for 'Puter's next grenade fishing outing. Plus, between you and me, I think he can only hold onto that lightning rod-like support pole for 20-30 hours.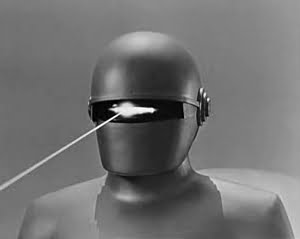 GorT is an eight-foot-tall robot from the 51ˢᵗ Century who routinely time-travels to steal expensive technology from the future and return it to the past for retroinvention. The profits from this pay all the Gormogons' bills, including subsidizing this website. Some of the products he has introduced from the future include oven mitts, the Guinness widget, Oxy-Clean, and Dr. Pepper. Due to his immense cybernetic brain, GorT is able to produce a post in 0.023 seconds and research it in even less time. Only 'Puter spends less time on research. GorT speaks entirely in zeros and ones, but occasionally throws in a ڭ to annoy the Volgi. He is a massive proponent of science, technology, and energy development, and enjoys nothing more than taking the Czar's more interesting scientific theories, going into the past, publishing them as his own, and then returning to take credit for them. He is the only Gormogon who is capable of doing math. Possessed of incredible strength, he understands the awesome responsibility that follows and only uses it to hurt people.