In Which Dr. J. Agrees with The Czar and 'Puter…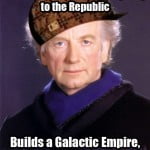 Never trust the guy who says, "I will be Chancellor…"
Dr. J. has yet to discuss the Obamacare decision because he was out of town, but more on that later. He wanted the opportunity to read Chief Justice Robert's decision himself before he opined. That being said, he found The Czar's and 'Puter's analyses to be well thought out and logical. Dr. J. is not a lawyer, but he readily saw in Robert's opinion the logic with which he upholds the individual mandate, and more importantly with which he decimates a number of the arguments the government had in order to make their case.
The hardest part for Dr. J. to grasp, he will admit, is the dual nature of the Schrodinger's Tax. Again, 'Puter makes it clear, but Dr. J. would only get partial credit on the quiz. He did much better explaining Schrodinger's cat back in college chemistry class (full credit, bitches!).
Even Governor Christie (an attorney) did a better job describing the tax duality than Dr. J. could, and did so, today on Fox and Friends:
Sure. Yeah. I mean, listen, I thought all along that it was a tax. And I don't think it's exclusively a tax or a penalty. It's both. And there's no question in my mind about that, it's both. They're meaning to penalize people and they argue in the Supreme Court it was a tax. Now, of course, you argued in the campaign and forward that it wasn't, but he's now in a bind. He's in a bind as to what this is all about. But I think there's no question that it's both. It's meant to penalize people and it is a tax. There's no doubt. Because we have to pay for the government program.
Dr. J. is not even going to go there regarding the idea that Roberts changed his mind late in the game because he is susceptible to bullying, or that he is responsible for large swaths of the dissent as well. It just isn't worth it.
So, Dr. J.'s done some serious soul searching regarding his thoughts regarding the Supreme Court decision.
First, Dr. J. is totally chaffed that such an irresponsibly crafted leviathan of legislation, which has had the exact opposite policy effects as promised by its sponsors will continue to exist for some time, if not forever. This law, despite what the left says, is a total drag on the economy. Economic recovery is necessarily linked to the repeal of this legislation.
Second, Dr. J. is equally unhappy with how the law was enacted in the first place which parliamentary tricks and nonsense and arm twisting.
Third, there is much in this law (such as the HHS mandate, which will go down somewhere between 9-0 and 7-2 given the current court's votes regarding religious liberty over the last few years) that is unconstitutional, but can't be heard in court until it 'harms' plaintiffs resulting in their filing of lawsuits.
Fourth, Dr. J. doesn't like the lies and propaganda spread by the left regarding this legislation in order to cover for themselves in the process of passing, and subsequently implementing the law to date.
Fifth, not only does this law negatively affect the cost of health insurance and the quality of care that many will receive, it will also negatively affect Dr. J.'s ability to do his job effectively, as he will have to push more paper and increase his patient volume to maintain his income, income which is much less than his peers were earning 10 years prior for less work.
In other words, Dr. J. doesn't like this law because it is bad for his patients, bad for his family and bad for many more families across America.
In thinking about this, Dr. J.'s issues are with policy, and not with the legitimacy of the law, at least as argued before the Supreme Court. It is not clear to him that a suit could have been brought arguing that the law was not legitimate due to the parliamentary procedures that were required in order to pass it. But neither that is here nor there.
The only way that Obamacare will go away is if it is repealed and replaced with something else.
Elections have consequences.
They had consequences in 2008 when President Obama, a Democrat majority was renewed in the House and a cloture proof majority in the Senate were elected. The consequences were a stimulus that, at best, did nothing, and at worst was a slush fund for friends of the President; and the Obamacare law.
But they also had consequences in 2010. Despite what the President and his surrogates say, the Republican majority in the House and taking of several seats in the Senate were, first and foremost, a check on a very progressive administration whose policies were disliked by a majority of Americans, including some of those who elected him President in 2008. Some people who liked the idea of Obama, didn't like what they got with an unchecked liberal government.
Hopefully the people will continue to believe that elections have consequences and will vote in 2012 in a manner that will allow Obamacare to be repealed.
Even though the liberal and conservative pundits, alike, will argue that talking about Obamacare is a distraction to the discussing economy, the truth is that ending Obamacare is an essential part of the recovery.
It is Dr. J.'s sincere hope that the voters will put in a legislature with a spine and a plan and a president that will sign the repeal in the law.
Ben Franklin said it best, "[What we have is] a Republic, if you can keep it."