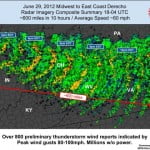 To pull a thread from 'Puter's latest post, the spin about the "derecho" storm that hit parts of the east coast of the United States this past Friday night has spiraled and inflamed the climate change debate. The usual spin starts with something like "this new, severe weather" should at least give the reader pause. Let me explain why.
First, a brief detour into nomenclature. I'm not clear why we're using Spanish terms for much of our weather – la niña, el niño, el derecho, etc. Not that I mind, we could use Albanian for all I care and call this recent storm: shtrëngatë. I just find it odd. Furthermore, "derecho" as a noun refers to a "right" or "entitlement" while the name might be derived from the adjective form meaning right, as in a direction, or from the adverb form meaning straight. So the choice of term is a bit odd.


To put "derecho" in context, one must jump back to 1888 when Gustavus Hinrichs, in the American Meteorological Journal, used the term to describe a storm that blazed through Iowa on July 31st, 1877. The storm has a characteristically bow or spearhead shaped form. These storms generally occur between May and August with peaks in late June and early July. They happen more frequently than the recent media spin might suggest. NOAA's Storm Prediction Center shows that areas of the United States can experience them as frequently as once per year and a significant portion of the country, once every four years. Courtesy of Anthony Watts, here is a list of documented storms:
Holiday weekend events
The human impact of the following events was enhanced by their occurrence on summer holiday weekends, causing many to be caught out-of-doors during the sudden onset of high winds…
July 4, 1969……………."The Ohio Fireworks Derecho"….MI, OH, PA, WV
July 4, 1977……………."The Independence Day Derecho of 1977″….ND, MN, WI, MI, OH
July 4-5, 1980…………"The 'More Trees Down' Derecho"….NE, IA, MO, IL, WI, IN, MI, OH, PA, WV, VA, MD
Sept. 7, 1998…………."The Syracuse Derecho of Labor Day 1998″….NY, PA, VT, MA, NH
Sept. 7, 1998 …………"The New York City Derecho of Labor Day 1998″….MI, OH, WV, PA, NJ, NY, CT
July 4-5, 1999…………"The Boundary Waters-Canadian Derecho"….ND, MN, ON, QB, NH, VT, ME
The derechos of mid-July 1995
The mid-July 1995 derechos were noteworthy for both their intensity and range…
Series Overview……….Montana to New England
July 12-13, 1995…….."The Right Turn Derecho"….MT, ND, MN, WI, MI, ON, OH, PA, WV
July 14-15, 1995…….."The Ontario-Adirondacks Derecho"….MI, ON, NY, VT, NH, MA, CT, RI
Serial derechos
Two well-documented, classic events over the eastern United States…
April 9, 1991……………"The West Virginia Derecho of 1991″….AR,TN, MS, AL, KY, IN, OH, WV, VA, MD, PA
March 12-13, 1993…."The Storm of the Century Derecho"….FL, Cuba
"Southward bursts"
"Southward burst" is a term coined by Porter et al. in a 1955 paper (see reference here) to describe a progressive-type squall line that surges rapidly southward rather than east…
May 4-5, 1989…………"The Texas Derecho of 1989″….TX, OK, LA
May 27-28, 2001…….."The People Chaser Derecho"….KS, OK, TX
Other noteworthy events
June 7, 1982………….."The Kansas City Derecho of 1982″….KS, MO, IL
July 19, 1983………….."The I-94 Derecho"….ND, MN, IA, WI, MI, IL, IN
May 17, 1986…………."The Texas Boaters' Derecho"…..TX
July 28-29, 1986…….."The Supercell Transition Derecho"….IA, MO, IL
July 7-8, 1991…………."The Southern Great Lakes Derecho of 1991″….SD, IA, MN, WI, MI, IN, OH, ON, NY, PA
May 30-31, 1998…….."The Southern Great Lakes Derecho of 1998″….MN, IA, WI, MI, ON, NY
June 29, 1998…………."The Corn Belt Derecho of 1998″….NE, IA, IL, IN, KY
July 22, 2003……………"The Mid-South Derecho of 2003″….AR, TN, MS, AL, GA, SC
May 8, 2009……………."The 'Super Derecho' of May 2009″….KS, MO, AR, IL, IN, KY, TN, VA, WV, NC
As one can see, this weather pattern is not new and there are documented examples of past storms that we equally as powerful. Furthermore, those that claim that the devastation was worse or the response is worse because it happened upon us suddenly should take a look at this radar map and let me know why you think that because I think a lot of people are taking a left turn on this….or should I say, a la izquierda.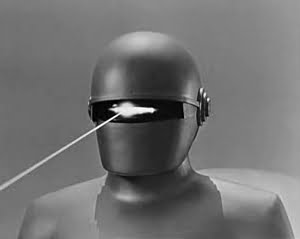 GorT is an eight-foot-tall robot from the 51ˢᵗ Century who routinely time-travels to steal expensive technology from the future and return it to the past for retroinvention. The profits from this pay all the Gormogons' bills, including subsidizing this website. Some of the products he has introduced from the future include oven mitts, the Guinness widget, Oxy-Clean, and Dr. Pepper. Due to his immense cybernetic brain, GorT is able to produce a post in 0.023 seconds and research it in even less time. Only 'Puter spends less time on research. GorT speaks entirely in zeros and ones, but occasionally throws in a ڭ to annoy the Volgi. He is a massive proponent of science, technology, and energy development, and enjoys nothing more than taking the Czar's more interesting scientific theories, going into the past, publishing them as his own, and then returning to take credit for them. He is the only Gormogon who is capable of doing math. Possessed of incredible strength, he understands the awesome responsibility that follows and only uses it to hurt people.