Dr. J. addresses GorT's issues with I-95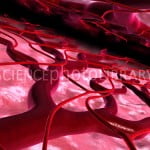 Still not as confusing as beltway traffic…
Dear GorT,
First, Dr. J. apologizes for taking an internet meme that went disturbingly viral unbeknownst to him and satirically attributing it to your refrigerator. He only did that because you are not only the the most IT savvy of the Gormogons, but also because you have most articulately discussed parental limits on technology with our readers.
Now that Dr. J. has done sufficient penance regarding that issue, he would like to discuss the suckage that is going down from five lanes to three on the interstate. You see, the interstate system is like the cardiovascular system, specifically blood vessels.
The French physician Poiseuille did all the work regarding this issue. He demonstrated that flow is proportional to pressure, radius (to the 4th power), and inversely proportional to viscosity and length.
Interestingly this relationship also holds true with driving on the interstate. The change in pressure is not dissimilar to the speed limit on the road,. and the radius can be measured in lanes, just as it can be measured in feet, meters, and even smoots. Viscosity can be equated with the number of cars on the road, because drivers slow down with an increased number of cars. The length of the road can be equated with the length of a straightaway.
So flow (driving speed) is proportional to the number of lanes on the road, and is most noticeable at the choke points, which is where the other factors are held constant and the radius decreases.
Now back to your regularly scheduled vacation!
Warmest Regards,
Dr. J.