Bogeyman: Why The Press Screws Up Firearm Stories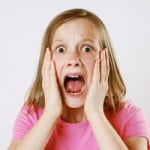 Since the Aurora, Colorado, shootings, gun sales are up nationally, either despite the media's fear and terror about firearms, or because of the media's fear and terror.
Firearms are the media's biggest bogeyman. And like all bogeymen, this fear is based on ignorance.
Here is what we mean. You have been blasted lately by an onslaught—by both local and national news organizations—about the need for stricter gun control.
As 'Puter covered beautifully in our absence, none of the arguments for stricter gun control make any sense whatsoever. But the media has been vomiting out their fear of guns repeatedly: even other gun mishap stories—which might not normally make the news—are popping up as "grim reminders" that guns must always be bad.
The more the media talks about gun control, the more worried Americans fear their rights could erode even further…and with that, they race out and purchase that additional pistol, revolver, shotgun, or rifle they have been putting off or mulling over. The media, in our opinion, is responsible for the surge in gun sales. Nice work, ladies and gentlemen!
Ever wonder why the media is so stupid about firearms? Even regardless of your position on guns—plenty of conservatives support some form of gun controls and plenty of liberals enjoy responsible shooting sports—the media is a complete charlie foxtrot on firearms.
For example, the rifle Holmes actually used in his shooting spree is a domestic hunting rifle that requires you to pull the trigger each time you want to take a shot. It must be aimed between each shot, which is why the body count was so low—thankfully, Holmes appears to have been unskilled in that regard. However, the media continue to report it as an AK-47 (wrong), an assault rifle (there is no such thing, any more than there is an assault toaster or assault washer/dryer combo), a military-style weapon (what does style mean?), or that he used some magical military-grade ammunition (nope yet again: the rifle uses standard ammunition). Nearly every reported fact in this regard has been wrong.
The reason is simple: the media's opinion of firearms is never backed up by the facts. Anytime a reporter decides to go in deep—real deep—into the world of firearms, one of two things happens:
They realize there is no story there and give up.
They become huge enthusiasts of shooting sports.
It is indeed rare to find anyone on the strict anti-gun lobby who has real experience with firearms. Reporters are no different: once they start learning about the evil, nasty gun culture, they find that most Americans own and use guns, are safe and responsible, and account for the tiniest sliver of fatalities and injuries.
But once in a while, an intrepid cub reporter attempts to do real research on how out of control gun sales are! The Czar was livid when he saw USA Today write a story about that very topic. Either click on that link or sit tight, because here are their conclusions:
Somehow James Holmes managed to purchase all of this weapons legally. Can you imagine?
A check of websites shows how quickly he could have done this.
His AR-15 and one of the .40 Glocks were purchased from Gander Mountain. According to Gander's website, the rifle costs $729, and the Glock costs $600.
The Remmy 12-gauge ($319) and the other Glock ($600) were purchased from Bass Pro Shop, according to the prices on Bass' website.
The Colorado State Police website allows Holmes to carry a firearm in a vehicle.
Atlantic Firearms.com sells the 100-round drum magazine he used for $279, although the website does not indicate whether it is legal to ship this to Colorado.
Gander Mountain's website estimates the total value of the ammunition Holmes had to be $2,870.
You can get body armor similar to Holmes at bulletproofme.com for $560, with the rest of the gear totalling up to $970.
And his apartment boobytraps could be made for $300 with supplies available from bigfireworks.com.
The Czar reads this and thinks two things: (a) we have very brave reporters who never left the safety of the internet to put together a story that (b) will surely increase traffic to Gander, Bass, and the other websites. Thanks for the free advertisting, stupid!
See? This is why the Czar thinks that a free sample hooker at a rundown desert bordello has a more honorable profession than a 21st Century journalist. The sheer intellectual laziness of the media is exactly why we get terrified story after story about the evils of firearms. And its source is this exact sort of ignorance.
Good news: despite all of Ghettoputer's challenges on this site, and despite all the ridiculously easy fact-checking that rips the media narrative to shreds, none of this matters. Americans are voting with their wallets right now, and guns win. The gun control debate is over, folks. And the gun control side has lost; every argument has been debunked, and recycling the same nonsense over and over never makes the arguments fresher.
Let us move on, as the liberals say.

Божію Поспѣшествующею Милостію Мы, Дима Грозный Императоръ и Самодержецъ Всероссiйскiй, цѣсарь Московскiй. The Czar was born in the steppes of Russia in 1267, and was cheated out of total control of all Russia upon the death of Boris Mikhailovich, who replaced Alexander Yaroslav Nevsky in 1263. However, in 1283, our Czar was passed over due to a clerical error and the rule of all Russia went to his second cousin Daniil (Даниил Александрович), whom Czar still resents. As a half-hearted apology, the Czar was awarded control over Muscovy, inconveniently located 5,000 miles away just outside Chicago. He now spends his time seething about this and writing about other stuff that bothers him.