An Actual Spider-Man Review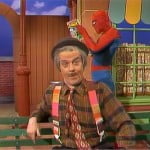 Dr. J. took in the Amazing Spider-Man with Clan J. and the Lil Med-Student's wacky sidekick who, unbeknown to us took in the movie a few days prior and proceeded to inform Dr. J. and the Lil MedStudent about everything that was going to happen before it happened.
Five-year olds have no concepts of spoilers.
Nevertheless, Clan J. gave the Amazing Spider-Man eight thumbs up (two thumbs from the each of us).
Now, Dr. J. likes Spider-Man a lot, and is familiar with many, but not all of the live and animated incarnations.
Electric Company Spiderman – Meh. Dr. J. liked Easy Reader better.
1967 Spider-Man – The best theme song, very cool, jazz fusion music, watercolor backgrounds and psychedelic visuals, but short on story more often than not.
1978-1979 – Amazing Spider-Man live-action television series – Blech!
Spider-Man and his Amazing Friends – Big nostalgia factor, not terribly deep writing, often a little campy (with the recurring 8-bit nemesis, Video-Man), but Dr. J. enjoyed watching them quite a bit with the Lil Resident, who made him re-play the Firestar origin story over and over and over again when she was a wee tot.
Spectacular Spider-Man – This is probably the most well written of the cartoon versions. There is a clear arc to each of the two seasons. The story line was sufficiently tweaked to keep up with the times and keep the most knowledgable viewers on their toes, but it also went deep into the Spider-Man Rogue's Gallery to demonstrate respect for the character's history.
Ultimate Spider-Man – He leads essentially a 'New Avenger's' like team for SHIELD. Stylistically, he breaks down the fourth wall too often for Dr. J.'s liking, and it's a typically too silly for his liking, but there are some brilliant episodes (Loki turning Thor into a frog comes to mind).
There was much controversy with regard to the idea of a re-boot because everyone knows Spider-Man's origin, and it typically results in at least a 30 minute time suck for any cinematic experience. But Dr. J. will share with you what worked and what didn't. There are nominal SPOILERS so do not read below if you want to go in blissfully ignorant.
The Good:
The Cast – While some of the cast didn't 'look' the part, such as Flash Thompson being more of a lean hoops playing jock, and Aunt May not being old and grey, they all acted their parts well. Emma Stone was a delightfully charming Gwen Stacy. Andrew Garfield did, in Dr. J.'s opinion a better job portraying a more rounded Peter Parker than Tobey Maguire who played up the nerd in spider clothing.
The Characters- Including Richard and Mary Parker in the story, and allowing the mystery surrounding their demise to play a role in the film series arc was a novel addition for live/animated Spider-Man. They have not made the big or small screen, only the comic books up until now. Dr. J. was happy that after being teased throughout the Raimi films, the Lizard finally showed up.
The Notable Absences – Mary Jane Parker (Girlfriend # 2), J. Jonah Jameson and Norman Osborn are MIA in this first film in the new series. While Mary Jane is clearly MIA, the Daily Bugle itself is present, and Norman Osborne's corporation OsCorp is a centerpiece of the plot, but he, himself does not make an appearance in the flick. So thankfully, the Green Goblin is at least one, if not two or three movies away from coming back. That is great because Dr. J. was suffering Goblin fatigue.
There are casualties, and a palpable sense that this Spidey lives in a dangerous world.
The Lizard was great, BTW.


The Bad:


Depending on what direction things go, OsCorp may be abused as a villain factory. While this worked well in Spectacular Spider-Man, there was an homage to Doc Ock's arms in one scene and given Norman Osborne's corporate motivations, the dark tower may bring about the creation of villain after villain in the series, so the writers have to be careful not to fall into the trap.
Spidey has mechanical web shooters again, which is good. However, it appears that he stole the web cartridges (ammo) from OsCorp. It is not clear to Dr. J. if he will run out of ammo in the future, and it bothers him that Spidey had to steal in order to create his web shooters.
He went from vigilante to hero in the eyes of the cops over the course of a film. One would have hoped the relationship would have taken longer to blossom.
If you nitpick science, this movie won't work for you.


The Future:


Dr. J. found this movie to be better than at least two of the three Raimi Spider-Man's (Spider-Man 2 is his favorite).
He really hopes that this Spider-Man will face a few different villains, such as the Vulture, Mysterio, the Chameleon and Tombstone before a confrontation with Green Goblin in the final movie in the arc.
Honestly, he would reprise the classic Amazing Spider-Man 121-122 as the basis of the final film. And only in a post-credit scene of the final film would he introduce Mary Jane Watson in true nostalgic fashion: