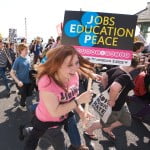 Your Mandarin wishes to extend his congratulations to Governor Scott Walker and Lieutenant Governor Rebecca Kleefisch on their victory last night.
Your Mandarin is also pleased with the overall outcome of this recall effort and the ongoing impact it is going to have on the return to responsible government spending and freedom.
The recall effort did more than any conservative blog site, news service, or commentary could do on its own. The recall effort concentrated all of the extreme left-wing/Progressive characters into one heaving histrionic mass for all to see. And when seen in whole, the picture painted is beyond disturbing.
For the Democrats that voted for Governor Walker yesterday, I liken them to the following:
You are in the crowd at a football game between to bitter division rivals. Everyone in the stands is rooting for the home team and giving the visiting team the business. In your section there are the group of jackasses with their painted faces and one too many beers in them. The face painters spot an elderly woman who is wearing the jersey of the opposing team, and quickly surround her and begin verbally abusing her about her support for the other side. The verbal abuse then escalates and finally one of these emboldened fans pours his beer on her. Quickly the other fans in the stands begin to turn on the face painters and no longer want to be associated with them and their behavior.
This is what your Mandarin believes happened in Wisconsin once the average hard working Democrat witnessed the behavior of their "fellow" Democrats who think that the only hard work they should have to do is scream loudly for the evil rich – otherwise known as the taxpayer – to give them more.

The Mandarin, whose real name is 吏恆, joined the order in 1309, and introduced the Gormogons into England during the 18th Century.
The Mandarin enjoys spending time with his pet manticore, Βάρἰκος, or Barry (who can be found in the Bestiary). When not in the Castle…well, frankly, nobody is quite sure where he goes.
The Mandarin popularized the fine art of "gut booting," by which he delivers a powerful kick to the stomach of anyone that annoys him. Although nearly universal today, the act of gut booting or threatening someone or something with a gut boot is solely due to him.