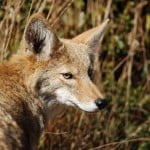 Elizabeth Warren's people believed that the coyote represented the Trickster spirit in legend. Turns out, the real thing works pretty much the same way.
One of the ways President Obama won his 2008 election—and all his previous ones—was by his ability to convince voters that he could be anything they wanted to see. Even though he professed and proffered a clear Leftist agenda while first campaigning for President, millions of voters ignored that and saw him as some radical visionary—someone who would reform everything they hated about Washington and its culture of corruption and glad-handing. Basically, they wanted a Tea Party, and the choice came down to McCain—a squishy career politician who represented what people came to resent about Washington—and some clean cut guy from Illinois talking all sorts of future-oriented change.
So it never mattered what Barack Obama said. People wanted him to be something new and different, and assumed because he was different and new that it was pretty much the same thing. When Obama spoke of a Progressivist agenda, people heard Reform. When he prayed for big government, people heard Problem Solving. When he spoke of Radical Transformation, people heard Eden. Obama was a canvas on which you could paint any picture you wanted. He never promised it, but he never denied it, either.
This explains what happened in 2009. People realized he was not an uber-intelligent problem solver intent on common sense government; he was a nasty, petty, self-centered Leftist interested in the branches of liberalism that Americans most assured themselves would never be taken seriously. And the Tea Party was born, partially made up from many former Obama voters who realized the people, not the President, needed to make the calls.
This blank canvassing still goes on in the Obama campaign. Here are two example, seemingly unrelated outside of being pure political stunts, but actually quite similar.
First, we have the President's "evolved" opinion on gay marriage. Millions of LGBT Americans stood and applauded when President Obama believes that gays should have the right to marry. Parties were thrown, high-fives delivered, and fists bumped. Now everything was going to be different! Take that, conservatives! Gays are going to get married whether you like it or not!
Except, once again, the President said nothing new. Rather, he merely believed—as he said all along—that this was going to be a state-by-state issue. But by promising a big announcement, and by restating his original position with slightly different words, he just won most of the LGBT vote without any intention of delivering anything. You folks are exactly where you were before.
Second, he pulled the same stunt on the Hispanic community. Supposing he announced last Friday that he was going to take a subset of the illegal aliens in this country—from all over the world—and offer some of their children temporary work permits. But good luck, because the economy is so bad right now that they will not only have trouble finding work, but the plan—if actually enacted before the election—would bump up the effective unemployment rate and hurt the country as well as his campaign.
You realize, of course, that is precisely what he did. However, by re-wording his original strategy of deflecting any serious immigration reform, he got a huge Mexican audience to applaud and promise their votes to him. But what has he actually promised? What will he actually deliver?
Nothing. But he still maintains his ability to be the classic trickster: you see what you want to see. Like all good tricksters, he doesn't produce an outright lie; but neither does he call attention to the fine print. "No," says the used car salesmen a week after the sale, "I said the car came with a three year warranty; I didn't say it was still in effect."
And the Czar hates to say it, but he must: President Obama is certain to gain millions of votes solely by capitalizing on the naïveté of liberals. Liberals, by the way, who ought to know better.

Божію Поспѣшествующею Милостію Мы, Дима Грозный Императоръ и Самодержецъ Всероссiйскiй, цѣсарь Московскiй. The Czar was born in the steppes of Russia in 1267, and was cheated out of total control of all Russia upon the death of Boris Mikhailovich, who replaced Alexander Yaroslav Nevsky in 1263. However, in 1283, our Czar was passed over due to a clerical error and the rule of all Russia went to his second cousin Daniil (Даниил Александрович), whom Czar still resents. As a half-hearted apology, the Czar was awarded control over Muscovy, inconveniently located 5,000 miles away just outside Chicago. He now spends his time seething about this and writing about other stuff that bothers him.