Wisconsin, Salvator Americæ? [MINOR UPDATES}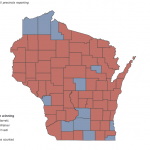 To: Confucius, Œ.V., ⬛⬛⬛⬛⬛⬛⬛⬛, ⬛⬛⬛⬛⬛⬛⬛, Kyrgyzstan.
From: J, M.D., D.Sith., Castle G, Plateau of Leng, Wisc.
Subject: 5 out of 6 ain't bad
All the rest of us have posted today, no pressure, big guy.
Ok, fine, as Volgi, Confucius* should take a moment to drop a line back to Castle G.
First things first, you're welcome, America. Confucius will have you know that his absentee ballot for Scott Walker was filed well before he left on his current ⬛⬛⬛⬛⬛ mission to ⬛⬛⬛⬛⬛ the ⬛⬛⬛⬛⬛ ⬛⬛⬛⬛⬛ on Lake Ysyk Köl's Kyrgyz Riviera.
Secondly, we'll have you know that Castle G's current county (Fond du Lac) came in at 64%/35% to retain Governor Walker. Clearly 'Puter's door-to-door "ground game" worked. Which was knocking on doors, and then sitting in people's kitchens until they left the house and came back with an "I Voted!" sticker. The quicker you vote, the more is left in your fridge and liquor cabinet.
Yes, we realize this is unpleasant, but it could be worse. Believe you Confucius, we do not want a rerun of the unpleasantness that followed from the Czar's 1849 "drink them Whig" get-out-the-vote effort at Ryan's Tavern, Baltimore's Fourth Ward. We promise, nevermore.
What's Confucius's takeaway from the recall election? Democrats, including President Obama, are in real trouble. The state party's idiotic strategy of redoubling efforts every time they were shot down has "damaged the brand," as marketers say. The primary association with the party today, outside its stalwarts' precincts, is a mob going to extremes to keep a favored constituency from having to make moderate reforms which, in turn, have saved the state fiscally.
The mere psychological fact of having pulled the lever for a Republican—no matter how couched in objection merely to the recall or to the objectionable conduct of the Democrats—is a Rubicon of sorts for a lot of people. They may be likely to return to the Democratic coalition, but some won't. I'd look in particular at the three red counties on the Mississippi River in the southeastern part of the state which Walker won narrowly. These counties are traditionally Democratic, union-heavy counties. But they're private-sector unions. It's mining country. The fact Walker won here may mean the white-working-class trouble people have been forecasting for the Democrats may be coming to pass.
But also, look at the big picture. Barrett basically won Milwaukee, Madison and environs, La Crosse (narrowly), Stevens Point (a college town, narrowly), Superior and the Lake Superior littoral, a 73–26% landslide in Menominee County (where he got 575 votes to Walker's 208), and Kenosha, a/k/a North Chicago (also narrowly).
Moreover, Walker's margins of victory in the eastern part of the state were monstrous. Winnebago (13 points) and Door (14) Counties were the close ones. Mostly, he polled over sixty percent. In the Milwaukee suburbs, it's over seventy.
What bodes best for Romney—if he plays his cards right—is that he's very well positioned to look a lot like Walker—a low-key, "common-sense" reformer who can speak to the state's good-government traditions and its profound sense of fair play. That said, if he just drops in for some PR-designed pep-talks and grin-and-grips, he'll come off as a coastal slickee boy, and Barry O will be right back in it.
What Romney needs to do to appeal to Wisconsin people is come in and say, "I've seen, admired, and learned from Scott Walker. Here are [x] common-sense reforms I want to put into place in Washington, no matter what the corrupt union bosses and their stooges in the other party say. I don't care if the Senate Democrats decide to flee to Paraguay, I will pass these reforms, and we will follow Wisconsin back to prosperity!"
"Union bosses," incidentally, was easily the smartest bit of propaganda in Romney's statement. Personalize the unions as corrupt fat-cats lining their pockets with workers dues ("That's who they are!" —'Puter) and the Democrats who curry their support as tainted. Well-played, Team Mitt. Now get rid of Mike Leavitt.
Well, I think that'll do. Hope you are all well. Salamatdarby from sunny Kyrgyzstan. I'll see you as soon as the ⬛⬛⬛ is properly ⬛⬛⬛⬛⬛⬛ ⬛⬛⬛⬛⬛ ⬛⬛⬛⬛⬛⬛⬛⬛⬛, which shouldn't be too long.
* For those who came in late, Confucius is the Gormogons' Œcumenical Volgi.
[Update: Thanks to the Czar for improving the redaction. And image rollovers fixed.]

Don't ask impertinent questions like that jackass Adept Lu.