Revealed: Who Will Be POTUS in 2013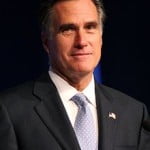 No less a personage than Dick Morris—whom liberals will remember helped Bill Clinton get re-elected—said that he has done the math on November's election.
Polls can be fairly accurate predictors of election results provided they are analyzed based on historical ebbs and flows. For example, as we have said many times on this site, likely voters are a vastly more important group than registered voters, because likely voters are…well…likely to vote, and registered voters may or may not vote as the mood strikes them that day. "Likely voters" tend to match up pretty well with actual voter turnout.
Right now, likely voters are picking Mitt Romney in polls. However, the more important factor to consider are undecided voters. Like the Czar, Mr. Morris believes that undecided voters do not actually exist—they already have decided.
Follow this argument carefully: in election after election, whether national, state, local, executive, or legislatives, the tendency is that the percentage of undecided voters tends to match the voting gain by the challenger in an election.
This does not mean that undecided voters always swing over to the challenger—they didn't for example swing to John Kerry—but that if you have 40% incumbent, 40% challenger, and 20% undecided, the challenger will win 60-40 over the incumbent. Likewise, if you have 52% incumbent, 41% challenger, and 7% undecided, the incumbent will win 52% – 48%. Remember: there is no guarantee that the undecideds vote for the challenger, but the math tends to average out just as if they always do.
This is because supporters for the incumbent announce they will vote for the incumbent. In other words, people planning to vote for President Obama are already going to do so, and that's that. Likewise, if you announce you are voting for Mitt Romney, you will likely do so. But if you announce you're undecided, it's because you aren't happy with the incumbent. And more or less, this translates to a vote for the challenger. As Mr. Morris explains for presidential elections:
Johnson in '64, Nixon in '72, Ford in '76, Carter in '80, Reagan in '84, Bush in '92 and Clinton in '96 all failed to pick up a single undecided vote.
So what does this mean?
Mr. Morris says the math shows a win for Mitt Romney. Given that he is slightly ahead with likely voters, and given the large number of undecided voters, this gives Romney a decisive win in November. Not quite what the Czar would call a landslide, but decisive.
So that's the Presidential election. Morris also reviewed the math across the board and discovered that the Republicans will retain the House and will very likely take the Senate, as well. This seems to match up with popular polls that say the GOP is poised for a decisive win in Congress.
But if you are a Republican, the news is not all good. Morris, without math, predicts that the Obama administration is utterly aware of this—and they already have contingency plans in place to pass lame duck treaties with the UN. These, as you know, do not need House approval but can be ratified by the Senate. Morris anticipates that the Senate will rubber stamp these—by Democrats and more than a couple remaining RINO senators—that will turn over large amounts of administration to the United Nations. He anticipates international treaties will target sales of American gun manufacturers, attempt to turn over portions of Internet control to the UN, and a treaty that prevents the US from treating teenage criminals as adults. In fact, he has a whole book (Screwed) about it that the Czar has not yet read.
The Czar has long argued that undecided voters and indepedent voters are an invention of pollsters because likely voters already know for whom they will cast a vote fairly early in the process. The undecided and independent voters tend to exist (albeit temporarily) only during primaries. Once the candidates are more or less set, the voters's decisions are pretty much set.
This is patently true in 2012: there are probably less than 100 likely voters in the United States who are undecided between Romney and Obama over matters like strapping a dog to a car roof, whether Bain Capital created more or less jobs than advertised, or whether a capital gains tax reduction will reflect in revenue deltas.
The voters have the issues in front of them: Obamacare, the economy and employment, and assaults on religious freedom. They have made up their minds based on this, and results continue to look bad for the President.
Now that Mitt Romney is solidifying his title, and the President keeps doing whatever it is he keeps doing to sabotage his own campaign, expect to see Romney's numbers increase as the number of undecideds decreases.
The Czar would not be surprised to see some of Obama's numbers dip a little bit as unhappy former supporters see Mitt Romney is a viable alternative. "Oh, Romney's actually got a shot at winning?" But this number will be very small.

Божію Поспѣшествующею Милостію Мы, Дима Грозный Императоръ и Самодержецъ Всероссiйскiй, цѣсарь Московскiй. The Czar was born in the steppes of Russia in 1267, and was cheated out of total control of all Russia upon the death of Boris Mikhailovich, who replaced Alexander Yaroslav Nevsky in 1263. However, in 1283, our Czar was passed over due to a clerical error and the rule of all Russia went to his second cousin Daniil (Даниил Александрович), whom Czar still resents. As a half-hearted apology, the Czar was awarded control over Muscovy, inconveniently located 5,000 miles away just outside Chicago. He now spends his time seething about this and writing about other stuff that bothers him.