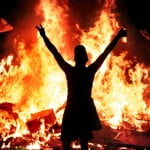 Meet the new boss. Same as the old boss. What's changed is that you aren't as nice.
The Volgi and the Czar both found that we are all supposed to get ready for Occupy 2.0, a re-launched, re-branded, new logoed, and re-tooled version of the last Occupy group. Why the marketing makeover? Because Adbusters, the folks behind the movement, believe that the original had become too commercial. Yep.
Whatever passes for irony in those offices must be pretty weird. But yeah—the celebrity endorsements (some showing up wearing thousands of dollars in clothes), the media attention, the old-time hippies hoping to score again, and especially the moron losers were all detrimental to the main point of the protests, whatever that was. So they want to boot all the goofballs out and instead use the die-hard evangelists in the movement to resell the concepts.
Anyway, Volgi wonders whether they will be worse; the Czar suspects that if you kick out all the losers from Occupy, the remaining subset is so small as to be negligible. But it seems they have already done quite a bit of unintended damage to the small areas they set up their camps.
What Adbusters fails to recognize in their dimwitted brains is that as anarchists, they continually cry out for leadership. And in any absence of leadership, leadership will be supplied. That never means that leaders will naturally emerge from within, but that diabolical power-hungry parasites will show up from the outside and take over—exactly what happened before.
And by culling out so much ballast, the new Occupy could become more violent and dangerous than ever, since the more-focused group can be channeled into more conter-productive endeavors.
By the way, anybody wonder if Occupy 2.0 is not a reaction, but preparation to an eventual Obama loss in November?

Божію Поспѣшествующею Милостію Мы, Дима Грозный Императоръ и Самодержецъ Всероссiйскiй, цѣсарь Московскiй. The Czar was born in the steppes of Russia in 1267, and was cheated out of total control of all Russia upon the death of Boris Mikhailovich, who replaced Alexander Yaroslav Nevsky in 1263. However, in 1283, our Czar was passed over due to a clerical error and the rule of all Russia went to his second cousin Daniil (Даниил Александрович), whom Czar still resents. As a half-hearted apology, the Czar was awarded control over Muscovy, inconveniently located 5,000 miles away just outside Chicago. He now spends his time seething about this and writing about other stuff that bothers him.