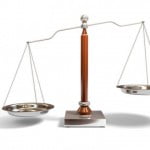 The objective media is balanced, provided you ignore that tilt to the left.
Much ado is being made over MSNBC's reprehensible editing of Mitt Romney's comments on the free market, in which his contrast between the simplicity of ordering a sandwich compared to registering a change of address with the Feds was intentionally manipulated to make him sound like an idiot.
But does it matter? No, the Czar isn't defending MSNBC; he merely wonders whether a single American vote will change over the act. Probably not, as very, very few conservatives watch MSNBC. Indeed, ratings show very, very few Americans watch it either way.
Time was when you knew what you were getting from the media. National Republicans read National Republican papers, Democrats read Democrat papers, and Whigs read Whig papers. Everybody knew this, and that was that. For example, consider an 1828 National Republican newspaper essay on Andrew Jackson, that read, in part:
Gen. Jackson, detailing his progress among the Indians, in the course of which, men, WOMEN and CHILDREN, were indiscriminately "exterminated," their towns burnt, and their country laid waste, with the utmost complacency and sang froid, says, in his letter dated, "Camp before St Marks," April 9, 1818—Captain McEver having hoisted English colours on board of his boats, Francis the Prophet, Hocomochensutebo, and two others, were decoyed on board. These have been hung to-day?" Reader, mark the perfect indifference with which Gen. Jackson shoots, hangs, or stabs his fellow beings, with or without trial, and the more than callous, aye, even exhibiting composure, with which he details his horrid and bloody deeds! If the Indians, according to the customs of their nation, put to death a prisoner, all the feelings of our nature rise into indignation against them. With what feelings then should we contemplate the decoying & the cold-blooded murder of prisoners, by a civilized man, in the face of the laws and customs of his country.
Wow! Except, of course, the story references an event from the Creek War, in which a civil war among the Creeks turned violent against Americans in the area. All attempts to stop the violence failed, and Gen. Andew Jackson (no friend to the Czar) led an armed forced to stop it. Jackson and his men encountered a well-fortified position on the Tallapoosa River, recovered from the ambush, and turned the tide—ultimately killing 800 Red Stick Indian warriors. Many of the Indian survivors fled and teamed up with the British in the ongoing War of 1812, but the Creek violence was stopped. No massacre, intentional or otherwise, of women and children occurred. Indians were killed only in active battle.
The newspaper account is basically fiction, and paints Jackson as a psychopath. In 1828, when this was written, no one seriously believed the account and even National Republicans rolled their eyes—largely because the Democrats were accusing John Quincy Adams of having once hired an American prostitute for Russian royalty.
This was a game that went both ways, and American voters understood this.
Certainly, libel laws to prevent this sort of thing from happening to ordinary people today, although you can make up pretty much any weird claim against a politician. But this notion that the media be balanced and not take political sides is a much more recent invention, and intended to sell more newspapers outside a single political party. Indeed, the modern concept of Objectivity did not fully arise until the 1920s: report the facts, present both sides of the story, and let the reader decide.
Psychology will tell you this is impossible: you can slant a story to your point of view merely by selecting which of the two arguments is presented first, whether rebuttal is offered, and even by where the story is placed on the page. A recent—and classic example—comes from an NPR story entitled GOP Dope Slaps Obama For Saying Private Sector's 'Doing Fine'. Republicans objected to NPR calling Mitt Romney a dope. Democrats objected to the sensationalism of the President getting dope-slapped. How you interpret the headline may be influenced on your political party. For the record, the article makes it clear that Romney, et al., was dope-slapping Obama.
Objectivity is a ridiculous myth. And bad things result from it—as soon as the major media players agreed to use objectivity, the Left began to infiltrate the media. Stories began to skew Left, and by the end of World War II, the American public largely fell for all sorts of propaganda disguised as balanced news coverage. (One of the ways the Left infiltrated was through the news printers' unions; the larger the circulation, the more union members got hired—not all of whom were nice.)
And while accusations of a liberal bias surfaced as early as the 1960s, people largely refused to believe it. Apropos to the Romney misediting, how many Americans still believe George H. W. Bush was stymied by a supermarket scanner? Or that The Washington Post broke the Watergate story and destroyed Nixon's presidency? Or more recently, that a teenaged Mitt Romney gang-barbered a kid?
All of these stories are media inventions intended to bias the public. Thanks to the emergence of the Internet, the pretense of balanced objectivity is falling away. As this market opens up, conservatives are reading conservative sources, liberals are reading liberal sources, and the markets of traditional news departments (print, radio, and television) are eroding into bankruptcy as a result.
In short, objectivity never really existed, and its impending death might be something to be welcomed by both sides. Does it really help a liberal when one conservative voice participates on an MSNBC panel? Do conservatives care if a Democratic party spokeswoman comments on FoxNews? No, this just wastes everyone's time. If a news story catches your interest, it's easy to forward on to someone else; it is just as easy for someone else to forward you a rebuttal. Look at Twitter—you can read sixteen corrections to a story long before you scroll down to find the original claim.
Good riddence to objectivity. Like Godot, no matter how much you talk about it, it never was going to arrive.

Божію Поспѣшествующею Милостію Мы, Дима Грозный Императоръ и Самодержецъ Всероссiйскiй, цѣсарь Московскiй. The Czar was born in the steppes of Russia in 1267, and was cheated out of total control of all Russia upon the death of Boris Mikhailovich, who replaced Alexander Yaroslav Nevsky in 1263. However, in 1283, our Czar was passed over due to a clerical error and the rule of all Russia went to his second cousin Daniil (Даниил Александрович), whom Czar still resents. As a half-hearted apology, the Czar was awarded control over Muscovy, inconveniently located 5,000 miles away just outside Chicago. He now spends his time seething about this and writing about other stuff that bothers him.