In Which Dr. J.'s Mail is Tampered With…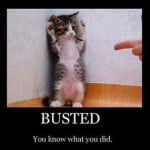 Gentle Readers,
Mayor Karl Dean is trying to push a budget that includes a 13% property tax hike through Metro Council, here in New Atlantis. Dr. J. suspects he has the votes in spades, but New Atlantian politics are volatile and it is hoped that a very large turnout at the council meeting next Tuesday by regular folks (i.e. not public service union employees and public school teachers both of whom benefit through significant pay raises if the Mayor Dean's budget passes) can dissuade Metro Council members from voting in favor of the budget.
Dr. J. has emailed his councilman directly regarding the issue, and sent a blanket email via the Metro government portal to all of the council members. This was done so he may reach his 5 at large council members in addition to his district council member. He has received email responses from at least 3 council members, one of whom is leading the charge against the vote and the other two who are undecided but leaning against the budget.
Today, Dr. J. received a postcard in the mail from the Tennessee Tea Party. Their postcard had contact info for the local councilman and the at large council members. It included a suggested script for those who get nervous on the telephone to assist them in politely expressing their opposition to the property tax hike. In addition there was a tear-away postcard you could fill out and mail to your councilman if you so desired.
Mrs. Dr. J. handed the postcard to Dr. J. and said, "I see you already took care of this…" Unfortunately, Dr. J. did not…
Apparently someone tore away the post card. Given that Dr. J. lives in a navy blue neighborhood, he would not put it past some of his neighbors to have gone through his mail, tear away the mail-in-card and chuck it in the trash. Furthermore, Democratic operatives have gone door-to-door in his neighborhood multiple times in the past. One of them could have made a preemptive strike on mailboxes as well. For those of our readers who subscribe to the existence of a right-wing conspiracy, an intrepid right-winger could have stolen Dr. J.'s postcard and mailed it in on his behalf. If that was the case, thank you, whoever you are. That being said, it doesn't fit the M.O. of the Tea Party to sabotage themselves in hopes that they can play the victim. It does fit the M.O. the proponents if the tax increase defuse the situation by any means necessary.
The point is, that this is the first time that Dr. J. has been a victim (however tangentially) of a political dirty trick. Disturbingly, these sorts of tricks now appear to be very real in Dr. J.'s mind. Hopefully this isn't a dry run for what we can expect in November.