The First Dying Gasps of Gun Control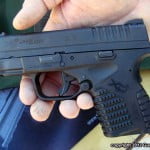 The Czar attended an open house for an outdoor rifle and pistol range this weekend, much as he has done for the last few years. This particular weekend though found the place overwhelmed with attendees. Yeah, this event is crowded every year, but this year was almost unpleasantly crowded: a range official mentioned to us that they were expecting 2,000 attendees; alas, that many were waiting for the gates to open at 10:00am, and they continued to flood the event all day. Fortunately, our family did not have to wait to enter or struggle to find parking—but another several hundred (at least!) did.
The Царевич is 7 years old, but fired his first weapon yesterday. His choice: the Springfield XDS .45 caliber. It totally fit in his hand, he aimed and hit his target, and was so happy and proud of himself he burst into tears. The range officer thought he somehow hurt himself with the recoil, but it was just tears of joy. He had no problem with the recoil on this mother.
Keep that in mind. That many Illinois residents made a heck of a trip to attend the free-to-enter but pay-to-shoot event. All sorts of exotic weapons were there, including a .50 rifle—and no amount of hearing protection will be enough when that thing fires.
The Czar would like to add one other thing to the incredibly high turnout: distribution. The place was jam-packed with women and children, white, black, Asian, Hispanic. In all probability, we estimate you could take just the women who attended and hit last year's total attendence numbers. When the range reminded participants that no personal weapons were allowed into the range—they want you to use the sponsors's weapons for obvious marketing reasons—a petite, young, skinny African-American woman turned to her husband and said "I need to return mine to the car," and patted her purse. She promptly set off to do just that while he waited.
The point is that when it comes to responsible firearm ownership, the numbers of people are literally overwhelming (they ran out of cheese for the cheeseburgers, for God's sake), and cut across both genders, all ages, and all backgrounds.
So then the Czar got to thinking about balance, as he usually does.
First, you have the Fast and Furious scandal, which probably every attendee knew about in detail. The common thread is not about executive privilege, or what Eric Holder said to whom that wound up with someone killing innocent people, but why the operation was conducted.
There was no law enforcement benefit, or the guns would have been tracked and traced. Straw purchasers would not have been necessary. The most logical explanation for the show attendees was that the Obama administration—starting with him—wanted to create such fear and terror in the Southwest that they would have begged him for a sweeping ban on long guns. The operation was not set up to fail—the death of innocent people was the whole point from the beginning. Leftists always want to break eggs, but never deliver on the promised omelettes.
Second, a couple of years back, the Democrats in the Illinois legislature wanted to publish the names of all firearm owner identification (FOID) card holders. In Illinois, this is a photo identification that tells gun shop owners and range operators that you've had a simple background check and that you are legally cleared to buy, rent, and use firearms within Illinois. Since it speeds things up at gun shops, most holders don't object to obtaining one.
But releasing all the names and addresses to the public? The liberal media here in Illinois salivated, waiting for the outrage from the Right. Surely this would shame and embarass the FOID card holders, who would immediately give up their rights in exchange for privacy! Can you imagine how easy it will be to curb legal firearm usage now?
Except, in classic liberal fashion, this blew up in their faces. Illinois FOID card holders wanted their names and addresses available—specifically, make them available to every potential armed robber in the state, so they know which homeowners are likely armed and ready to defend…and, one supposes, which ones aren't. When liberals realized that this stunt would put them on a short-list for home invasion, they quietly dropped the plan.
And then, about the same time, the Obama EPA was considering a ban on bullets as an environmental hazard. When the lunacy of this was exposed, the EPA dropped the ban.
You probably have similar gaggle of stories from your own state.But do you see a pattern here?
One the one side—and polling numbers show the Czar is not basing his claim solely off of the attendence numbers at one gun show—interest in responsible gun ownership is climbing way up, as all Americans (yes, even the ones the liberals claim to protect) are getting involved in a big way.
On the other side, we see ridiculous stunt after ridiculous stunt being tried to curb gun ownership.
Folks, the intersection of these two trends is clear: the liberals have lost the gun battle. Their arguments have failed, and now they are forced to try transparent stunts and tricks to exert control. The next few years will prove increasingly interesting and enlightening as violence statistics prove what gun owners have been saying all along. Violence doesn't increase with legal ownership, only when control is exerted.
And they are going to get very desperate indeed.

Божію Поспѣшествующею Милостію Мы, Дима Грозный Императоръ и Самодержецъ Всероссiйскiй, цѣсарь Московскiй. The Czar was born in the steppes of Russia in 1267, and was cheated out of total control of all Russia upon the death of Boris Mikhailovich, who replaced Alexander Yaroslav Nevsky in 1263. However, in 1283, our Czar was passed over due to a clerical error and the rule of all Russia went to his second cousin Daniil (Даниил Александрович), whom Czar still resents. As a half-hearted apology, the Czar was awarded control over Muscovy, inconveniently located 5,000 miles away just outside Chicago. He now spends his time seething about this and writing about other stuff that bothers him.