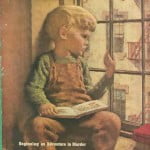 In the magazine business, you have a group that decides what the layout of the cover is going to look like. Anywhere from three to five different covers are developed, each with a different image. A small group, or even one person, looks at the mockups and says this one. And so, that's that.
Meanwhile, a different group decides what the featured stories are going to be, and which ones rate higher, resulting in a larger font, or a more prominent position on the page, and so forth. It is a different group in many cases, and they sometimes do not confer with the group selecting the cover art.
Which is how you wind up with an August, 1947, issue of Colliers featuring a four-year-old boy looking out a window while reading a book, with the unintended caption "Beginning an Adventure in Murder." Good luck with that, little guy! The Czar murdered several of his babysitters in the 1270s.
Meanwhile, across the land and far away, we have learned that the University of North Dakota will be dropping its nickname The Fighting Sioux, because the NCAA has incorrectly decided this is offensive to Native Americans.
The Czar might suggest the NCAA require the University of Notre Dame to drop its nickname of The Fighting Irish, since of course the Irish are offensive to everybody.
Even more distant in topic is the ongoing debate over what Microsoft's forthcoming tablet should be. Microsoft is looking to launch a competitor to the iPad, given how successful Microsoft has been at launching anti-Apple products like telephones, music players, and online media download stores.
Just a thought, Microsoft. Perhaps you might want to sit down and figure out how your operating systems are supposed to work, first. No? Didn't think for a moment you would do something sensible.
Anyhow, best wishes. Because Microsoft's innovations now consist of watching Apple for a couple years, and racing a half-assed, error-prone competing product that nobody wants or needs while ignoring the core issues that really prevent us from working.
Funny, that describes our presidential elections since about 1988.

Божію Поспѣшествующею Милостію Мы, Дима Грозный Императоръ и Самодержецъ Всероссiйскiй, цѣсарь Московскiй. The Czar was born in the steppes of Russia in 1267, and was cheated out of total control of all Russia upon the death of Boris Mikhailovich, who replaced Alexander Yaroslav Nevsky in 1263. However, in 1283, our Czar was passed over due to a clerical error and the rule of all Russia went to his second cousin Daniil (Даниил Александрович), whom Czar still resents. As a half-hearted apology, the Czar was awarded control over Muscovy, inconveniently located 5,000 miles away just outside Chicago. He now spends his time seething about this and writing about other stuff that bothers him.