Czar's Guide to Computer and Identity Security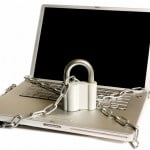 If it all possible, protect your data by putting a physical lock on it and a little bit of loose chain as pictured. That keeps just about everybody out, unless they simply lift up the lock and move it to the side. Then you're pretty well screwed.
Internet security is all the rage now, what with the LinkedIn hack, the Flame worm, Avram Levine's Facebook password being pHo3n1x, et cetera. So the Czar thought he would jam in some ways you can protect yourself from internet security threats, all in the comfort of doing no research whatsoever.
Remember what IT people will tell you, that every single thing that goes wrong is the result of a virus. Browser window lock up? Virus. Can't print? That's a virus. Don't remember the name of a font you used a week ago? Certainly a virus. Be sure to call IT support with your problem, however trivial, and let them know you have a virus, because seconds count.
Viruses and worms attack key system files—if they can be found! Prevent them from attacking your critical operating system files by finding all of them and renaming them to random letters and numbers. For example, Unix users should rename .login to u4D20Sx or something similar. Mac users should rename Finder to something like that, and Windows users should simply copy a large file to an external drive to tie up the operating system for hours.
Wireless users are often at risk if they somehow set up a home wireless network without following a single direction from the access point manufacturer. Your wireless signal probably bleeds right out of your home! Cover your windows with highly reflective Mylar, shiny side in. You won't see out of them, and anyone passing by can see in, but that's the price you pay for privacy.
Avoid using the same password for everything, like 'Puter does (his is pASSword). And do not write them down in obvious places. To prevent this, use an incredibly difficult password each and every time you create an account for something, like f88dEE432!!ég9euWð4DжңخצზგსხჯჰըՊՍպԺԽէ. Since this will be impossible to remember, it will be impossible to predict. To avoid forgetting it, simply stay logged into everything all the time, and never ever log out.
Identity thieves will have a hard time cracking your ID if you use several of them. For example, at Amazon.com, simply create about 12 different accounts, each with a plausible name. To add to the effect, rent out apartments in each of the names, furnish them, and decorate them with fake photos of "family members" to enhance the illusion. Consider taking on different jobs under each of the names to build credibility, ideally in different cities all across the United States. For the highest in security, marry several different people and start families with each.
Avoid using computer centers in public places like the airport. Also, don't use the bathrooms if you can really, really avoid it. Weird stuff goes on in there. Bus station bathrooms are even worse.
Do not carry personal information on USB drives, which are easily swiped and readable by nearly every computer. Instead, store personal information on large, bulky, incredibly outdated storage devices like 5.25-inch floppies. They won't know how to read it! Ideally, consider the use of punch cards.
Do not carry passwords or account numbers in your wallet! Avoid carrying other high-value information-risky items like credit cards, driver's licenses, cash, library cards, family photos, video rental cards, or locker combinations. And carry it in your front pocket to prevent easy pickpocketing. Likewise, it should be difficult to remove in a quick bump-and-rob situation. Ideally, use a large, heavy leather wallet with heavy gauge chain in your front pocket, and carry absolutely nothing in it.
Lock your front door when leaving the house. It is okay to leave the side door open for yourself.
While not a foolproof solution, you can deter casual data thieves by remembering to protect your precious application files (spreadsheets, word processing documents, graphics, etc.) with the handy mnemonic select all, delete, save. Try to do this every few minutes as you work.

Божію Поспѣшествующею Милостію Мы, Дима Грозный Императоръ и Самодержецъ Всероссiйскiй, цѣсарь Московскiй. The Czar was born in the steppes of Russia in 1267, and was cheated out of total control of all Russia upon the death of Boris Mikhailovich, who replaced Alexander Yaroslav Nevsky in 1263. However, in 1283, our Czar was passed over due to a clerical error and the rule of all Russia went to his second cousin Daniil (Даниил Александрович), whom Czar still resents. As a half-hearted apology, the Czar was awarded control over Muscovy, inconveniently located 5,000 miles away just outside Chicago. He now spends his time seething about this and writing about other stuff that bothers him.