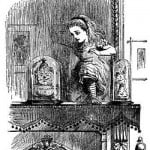 The Obama Administration has clearly come to us through the looking glass.
The Czar brings up, as usual, an excellent point in that when the media sees blood in the water, they, like sharks, find it hard to resist. Typically they have demonstrated super-carcharodonic restraint when it has come to the Obama administration.
So why now?
The gang on Fox and Friends brought up an interesting point this morning. They asked the question: "How many people could name the Commerce Secretary anyway?"
There have been a number of articles, including this one in
Vanity Fair
, saying:
The larger truth is that modern presidents, with a few exceptions, don't need, and don't use, Cabinet members as privy councillors on the most important questions. They have other people for that. Presidents do need competent, even if anonymous, executives to run the vast machinery of the federal government, but most Cabinet secretaries don't really do that either—at least not in the classic C.E.O. sense—leaving such work to their deputies and the professional civil-service staffs.
What this article leaves out that Dr. J. finds disconcerting is that President Obama's advisors that he relies most heavily upon are czars that were not confirmed by the Senate and whose politics are far to the left of center (e.g. Van Jones, Carol Browner, and Dr. J.'s least favorite, Cass "Wink wink, nudge nudge" Sunstein).
The high profile cabinet officials, Secretary of State, Defense, Treasury, and the A.G.'s office really can't be bypassed very well, but beyond that, the remainder have been largely supplanted in the inner circle by czars.
Why?
Because they don't need to be confirmed by the Senate; and none of President Obama's fellow travelers could be confirmed by the Senate because of their radical belief systems, just ask Dr. Berwick.
Dr. J. would also like to add that President Obama, whose actions have been largely, if not entirely anti-private sector has as little use for a Commerce Secretary. So, if anything happens to him, no one is really going to notice or care, because he probably hasn't done much in his role, and is pretty replaceable as a consequence.