Catholics Slightly More United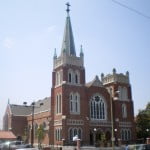 Look out. Catholics don't often mobilize, but when they do…
Isn't that rich.
The President, in trying to convince Catholics that his HHS directive was not a violation of their religious freedom, enlisted the Catholic Health Association to support his effort.
Many, many Catholics were unmoved by this endorsement since the CHA is not a formal Catholic institution at all, but is viewed as a heavily liberal healthcare consortium which frequently ignores Church teachings to promote "social justice" agendas. The more that the administration referenced the CHA, the more Catholics shrugged over their support. The administration might just as well have used the Catholic Boys' Softball League as an endorsement.
But now there is a wrinkle; the CHA—pretty much the sole source of Catholic support of Obamacare—has reviewed the proposed HHS mandates and concluded that, yes, the rights of Catholics are violated by this mandate. They are withdrawing their support.
Big deal, most Catholics will say. But if you are a Catholic Democrat—and you are out there—your biggest excuse to vote Democratic just went out the door. Non-Catholics should keep watching the skies: the big Roman Catholic push to vote out Barack Obama is starting within two weeks. It will not be pretty.

Божію Поспѣшествующею Милостію Мы, Дима Грозный Императоръ и Самодержецъ Всероссiйскiй, цѣсарь Московскiй. The Czar was born in the steppes of Russia in 1267, and was cheated out of total control of all Russia upon the death of Boris Mikhailovich, who replaced Alexander Yaroslav Nevsky in 1263. However, in 1283, our Czar was passed over due to a clerical error and the rule of all Russia went to his second cousin Daniil (Даниил Александрович), whom Czar still resents. As a half-hearted apology, the Czar was awarded control over Muscovy, inconveniently located 5,000 miles away just outside Chicago. He now spends his time seething about this and writing about other stuff that bothers him.