Beware Green Lantern's Light!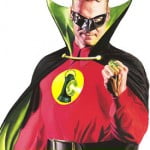 So our friends at DC Comics have rebooted Alan Scott, the golden age Green Lantern (not to be confused with Kato's companion the Green Hornet) as their flagship 'Gay Superhero' hero hero hero…
In the words of Bruce Timm, 'Meh.'
Now Dr. J. said last week that DC had an opportunity to go big with this, and that Nightwing was the way to go if they had any C.O. Jones.
Alas, they took the easy way out and went not only with a C-Lister (Golden Age Green Lantern), but also a character that's relegated to Earth 2, the alternate DC universe where the 'Golden Age' characters historically have resided since Gardner Fox authored Flash # 123 "Flash of Two Worlds," and which is shaping up to be a Marvel Ultimates equivalent.
At least he is a hero with a more storied history the Marvel's Northstar.
Jade and Obsidian could not be reached for comment…