They Really Stepped In It
If it isn't plainly clear, the lawsuits filed today by over 40 Catholic institutions against the U.S. Federal Government challenging the constitutionality of the HHS Mandate likely puts it in pretty stark terms. The Obama Administration seriously stepped in it this time. Maybe they hoped that it would wait until after the election for more flexibility. Or maybe they thought it would just blow over. Luckily, instead, it is coming to a head and groups with a varied socio-political stance are pressing the issue.
When the Secretary of HHS, Kathleen Sebelius – nominally a Catholic – testified in front of Congress last month regarding the mandate, she admitted that she did not obtain any legal advice regarding the constitutionality of the mandate:
Congressman [Gowdy], I'm not a lawyer and I don't pretend to understand the nuances of the constitutional balancing tests[.] […] I am not going to wade into constitutional law, I'm talking about the fact that we are implementing a law that was passed by the Congress, signed by the President, which directed our department to develop a package of preventive health services for women. We have done just that with the advice of the Institute of Medicine, and promulgated that rule.
True that they are attempting to implement a law, but to be implemented a law must be constitutional.
Keep in mind that a pocket size version of the Constitution is about 30 pages long and the First Amendment is only 45 words long. While we should not expect cabinet-level administration officials to be constitutional scholars, it should be reasonably expected that they understand the ramifications of a law and the means by which a law is tested.
GorT's pastor, who normally gives excellent homilies, has been knocking them out of the park the last two weeks. While largely pointing a big finger at this HHS Mandate, the good father has asked our parish to look at what our society has become and allowed and how far we're willing to let it go. His caution being that we're now bending to where it impacts the practicing of our religion. He cited Timothy Cardinal Dolan, president of the US Conference of Catholic Bishops:
We have tried negotiation with the Administration and legislation with the Congress – and we'll keep at it – but there's still no fix. Time is running out, and our valuable ministries and fundamental rights hang in the balance, so we have to resort to the courts now. Though the Conference is not a party to the lawsuits, we applaud this courageous action by so many individual dioceses, charities, hospitals and schools across the nation, in coordination with the law firm of Jones Day. It is also a compelling display of the unity of the Church in defense of religious liberty. It's also a great show of the diversity of the Church's ministries that serve the common good and that are jeopardized by the mandate – ministries to the poor, the sick, and the uneducated, to people of any faith or no faith at all.
For my liberal friends out there that are trying to cast this as an "access" issue or a contraceptive issue, I'll point at the statement from the University of Notre Dame:
This lawsuit is about one of America's most cherished freedoms: the freedom to practice one's religion without government interference. It is not about whether people have a right to abortion-inducing drugs, sterilization, and contraception. Those services are, and will continue to be, freely available in the United States, and nothing prevents the Government itself from making them more widely available. But the right to such services does not authorize the Government to force the University of Notre Dame ("Notre Dame") to violate its own conscience by making it provide, pay for, and/or facilitate those services to others, contrary to itssincerely held religious beliefs.

If the Government can force religious institutions to violate their beliefs in such a manner, there is no apparent limit to the Government's power. Such an oppression of religious freedom violates Notre Dame's clearly established constitutional and statutory rights.

The First Amendment also prohibits the Government from becoming excessively entangled in religious affairs and from interfering with a religious institution's internal decisions concerning the organization's religious structure, ministers, or doctrine. The U.S. Government Mandate tramples all of these rights.
It may be that Catholics – and primarily liberal Catholics – might not understand the Church's moral objection to contraception. This is a catechetical issue that the Church and its institutions should tackle. As stated above, our pastor has woven some of this into his weekly homilies. Secretary Sebelius should be the first to be educated.
What should be obvious to our readers and causal passers-by of our site is that this level of objection does not lend itself to support the Obama Administration's contention that it balanced the need for religious freedom with this mandate. If others believe that they have, please enlighten me. However, I doubt that any such evidence exists and, as Cardinal Dolan stated above, the negotiation hasn't yielded any progress, therefore should we not be worried. Worried that the administration and congressional democrats support this kind of action that imposes the federal government on religious freedom. Worried of what the federal government could do next with such powers. And worried that if this is the administration's characterization of "balancing" of constitutionally guaranteed rights, where we might be headed. Or, if the characterization is purely political cover (aka a lie), then what else has or will this administration lie about.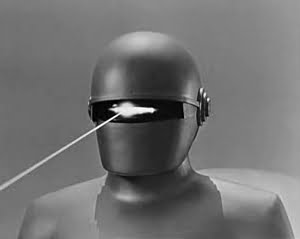 GorT is an eight-foot-tall robot from the 51ˢᵗ Century who routinely time-travels to steal expensive technology from the future and return it to the past for retroinvention. The profits from this pay all the Gormogons' bills, including subsidizing this website. Some of the products he has introduced from the future include oven mitts, the Guinness widget, Oxy-Clean, and Dr. Pepper. Due to his immense cybernetic brain, GorT is able to produce a post in 0.023 seconds and research it in even less time. Only 'Puter spends less time on research. GorT speaks entirely in zeros and ones, but occasionally throws in a ڭ to annoy the Volgi. He is a massive proponent of science, technology, and energy development, and enjoys nothing more than taking the Czar's more interesting scientific theories, going into the past, publishing them as his own, and then returning to take credit for them. He is the only Gormogon who is capable of doing math. Possessed of incredible strength, he understands the awesome responsibility that follows and only uses it to hurt people.