SuperMoon! Or, Rather, Perfectly Ordinary Moon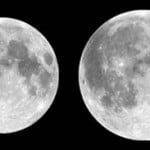 Are you ready for SuperMoon? Oh, you gotta be ready for SuperMoon!
"Supermoon alert: Biggest full moon of 2012 due Sat." screams FoxNews!
"Weekend 'Supermoon' Will be 2012's Largest" promises KSEE, Fresno.
"That's not just a full moon this week, it's a 'supermoon'" heralds MSNBC.
"Look, Up in the Sky – It's Supermoon" huzzahs Boise Weekly!
"'Supermoon': Biggest full moon due this weekend as tides rise around the planet" oversells The Daily Mail!
Czar, you likely are thinking, this must be some sort of bogus nonsense or wildly incorrect meme buzzing around the ignorant media. Ah, readers, you are why the Czar writes! Indeed, it is more of the latter: a non-story being whipped up into a crazy frenzy of disinformation.
Look, the Czar is all for the news media getting people interested in astronomy, or any other brain-related activity. But morons talk about smart subjects so poorly that we should be careful for what we ask.
SuperMoon is a concept that developed in astronomical reporting approximately 48 hours ago. It has no currency among people with three-digit IQs, and no business being reported as such.
As you know, the moon travels around the Earth, and like most orbiting bodies, it travels in an imperfect circle. The circle is pretty darn close, though: in fact, there is only a slight difference away from perfection…meaning that sometimes the moon is a tiny bit closer to us than at other times.
Perigee is when the moon is as close to us as it can get, and apogee is when it as far from us as it can get. The distance, astronomically speaking, is tiny: only 7% closer than average.
And when the moon is at perigee, it technically looks about 14% bigger. Here is a picture of the moon at apogee (left) and perigee (right):
Yeah, you can see the difference in the photo, but your eyes cannot when looking up. The change is very gradual, and shifts only a teeny amount each day. The moon moves into perigee once a month, and likewise goes into apogee just as often. You can follow along at home if that interests you. Funny how moon-related phenomena happen about once a month.
So what makes this perigee more fantastically splendiferous than any other in the Entire History of Recorded Human Events?
Nothing. Oh, sure—the moon will by total coincidence be a 100% full moon at the same time. Meaning that it will be as bright as it can get while being as close as it can get.
In fact, the photos of the moon above are from the exact same thing happening before. You will not notice the difference. So much so, that some of those news sources up there are already backing up a bit: why, they recommend you look close to the horizon, where the moon appears larger to your eyes due to a well-known and perfectly understood optical illusion. But the idea here is to get you to look at the moon at the horizon, think "Wow, that is bigger; those news guys are both right and smart!" Please note those smart news guys are morons, and are actively trying to trick you into believing something that is not true. The moon is not actually any bigger at the horizon, but they want you to think it is because it makes their stories more plausible. Don't fall for it.
And since perigee occurs once a month, in time with the tides, month after month, year after year, epoch after epoch, you already know what to think of any dire prophecies about destructively high tides or freakish events happening around the world.

Божію Поспѣшествующею Милостію Мы, Дима Грозный Императоръ и Самодержецъ Всероссiйскiй, цѣсарь Московскiй. The Czar was born in the steppes of Russia in 1267, and was cheated out of total control of all Russia upon the death of Boris Mikhailovich, who replaced Alexander Yaroslav Nevsky in 1263. However, in 1283, our Czar was passed over due to a clerical error and the rule of all Russia went to his second cousin Daniil (Даниил Александрович), whom Czar still resents. As a half-hearted apology, the Czar was awarded control over Muscovy, inconveniently located 5,000 miles away just outside Chicago. He now spends his time seething about this and writing about other stuff that bothers him.