Romney's neither a Keynesian, nor a fool.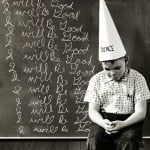 Dr. J. stumbled on this over at the Esquire Blog. How he got there, he's not sure. Perhaps a twitter link. Nevertheless, someone named Charles P. Pierce, who is clearly a Democrat partisan, is demonstrating his ignorance of both politics and economics.
He picks up on an exchange during Gov. Romney's Time interview with Mark Halperin, a journalist who has aggravated individuals on both the left and the right for various and sundry things he's written and said.
Let's go to the tape:
Halperin: I want to get to a lot of those, and let's go to spending, which is a big thing for you, one of the bases of comparison – you say you'd cut spending a lot more than the President has. And like most governors I know, you can get down in the detail. A lot of people don't know that about you; you can really get your arms around a policy issue and go deep, so let's talk about spending. You have a plan, as you said, over a number of years, to reduce spending dramatically. Why not in the first year, if you're elected — why not in 2013, go all the way and propose the kind of budget with spending restraints, that you'd like to see after four years in office? Why not do it more quickly?
Romney: Well because, if you take a trillion dollars for instance, out of the first year of the federal budget, that would shrink GDP over 5%. That is by definition throwing us into recession or depression. So I'm not going to do that, of course.
So, Mr. Pierce takes umbrage with the first couple of sentences of Gov. Romney's answer.
He quips:
Now, as it readily admits, the blog's knowledge of economics is limited to the blog's first law of economics — Fk The Deficit. People Got No Jobs. People Got No Money — and it also believes that most professional economists arrive at their conclusions by reading the entrails of doves and cutting up goats on a rock, so it may be wrong here, but didn't Romney, in saying that, pretty much blow up the entire rationale for over 30 years of Republican economics right there? Cutting government spending will throw us into a recession or depression? No Christmas cards from the Ryan household this year, Willard.
Here is what he cut out of Romney's answer to Mr. Halperin.
What you do is you make adjustments on a basis that show, in the first year, actions that over time get you to a balanced budget. So I'm not saying I'm going to come up with ideas five or ten years from now that get us to a balanced budget. Instead I'm going to take action immediately by eliminating programs like Obamacare, which become more and more expensive down the road – by eliminating them, we get to a balanced budget. And I'd do it in a way that does not have a huge reduction in the first year, but instead has an increasing reduction as time goes on, and given the growth of the economy, you don't have a reduction in the overall scale of the GDP. I don't want to have us go into a recession in order to balance the budget. I'd like to have us have high rates of growth at the same time we bring down federal spending, on, if you will, a ramp that's affordable, but that does not cause us to enter into a economic decline.
So Romney's plan is both smart economically and politically.
Economically it is wise in that it cuts government spending in a way that doesn't diminish the GDP as the cuts are offset by private sector growth. It further cuts the government's role moving forward at a rate that is based on private sector gains. As the private sector heats up, there is less of a need for government spending. Any 'pain' caused by government spending cuts will be less likely to be felt. There will be screaming banshees to be sure, however. Ask Scott Walker.
Politically it is smart because if he cuts government spending too fast, then total GDP declines, which with regard to real economic impact is may not be a big deal, as most of the Obama administration's spending (e.g. Solyndra, various and sundry kickbacks to union friends) appears to be an economic divisor rather than an economic multiplier. but it is a huge politically.
Remember, the definition of a recession is 'at least two straight quarters of negative economic growth.' If Mr. Romney enjoyed any negative economic growth during his time in office the left will be screaming like a bunch of wounded harpies.
So, lets do a thought experiment. If Mr. Romney cut government spending too fast (5% in the first year, then even left it at 0% the remaining time) and we saw 0% growth in the first year and 3% growth each year thereafter, the GDP would look something like this:

You can see a recession leading right up to the midterms. Cutting spending too fast is a political liability and modern Americans and the politicians they elect would prefer the easy thing to the right thing, which is a bitter pill.
Mr. Romney's economic plan may make recovery easier to swallow, by avoiding some, if not all of this initial negative growth. It sounds like it would turn us in the right direction with a little bit of time. Dr. J. believes though that the slope of his growth line will be less steep than it would be with a tougher initial tack, but if taking his time is what will actually permit our economy to be set in the right direction than he remains a far more palatable choice then President Obama who is hellbent on making us the next Greece.