President Romney? Well, Maybe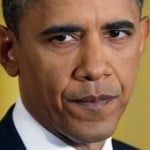 You may have missed it, but this week has been really one slap of bad news after another for the Obama campaign. Whether it's blowback from turning a Medal of Honor ceremony into a political stump speech, or a jaw-droppingly stupid attack (again) on Mrs. Romney, the real hurtful news comes from the math.
Darn it! Democrats hate math because it never seems to work out for them. But the numbers for the President are pretty grim. Now, bear in mind we still have a long haul to go until November, but we will talk about that anon.
First up, a brilliant analysis by Borepatch, based not on current polling but on electoral projections, shows a decisive, perhaps inevitable win for Romney in the Fall. The Czar tends to roll his eyes at such projections, but something about Borepatch's math is quite strong: he used only very conservative estimates in order to weaken Obama by one level—which is what tends to happen to incumbents in real elections versus the hype of projections. He has Romney at a 296 to 242 advantage. And while some of his commentators take him to task (New Mexico goes blue?), the reality is that these things could indeed happen, and there are enough of these iffy states on both sides to offset each other. Check it out.
Second, and backing up Borepatch's math, is the great Pete Wehner, who says that Romney is ahead in even the most partisan, tilted liberal polls. And outside the margin of error. Additionally, the President is losing support with women, and 67% of a skewed-left poll sample believe his recent support of gay marriage is little more than a meaningless political stunt to get votes. In all these categories, things look bad and are trending worse. (Ironically, Fox News polling shows that women are backing Obama more than Romney, although again Democrats were disproportionately larger in the sample.)
Third, you need to pay attention to what is happening in Wisconsin, which is viewed as a microcosm for the nation in its political response. The Democrats have issued a formal recall challenge to Republican governor Scott Walker based on the latter's cutting, slashing, and decimating of the unions and other pet liberal programs. Not only has the state made back a pile of money in ridiculously short order, but the unions have weakened terribly. And the public is clearly so much behind their governor that not only are the Democrats facing a landslide loss in the election (the national party has refused to sink any more money into the recall), but the state might tilt red in the Fall overall. This is bad for the President because it shows that many of his core supporters are losing influence on a grand scale.
Fourth, it looks like Congress is turning further Republican. Polls show that we should not expect another 2010 slaughter, but overall Democrats in Congress should be very, very nervous. Backing up these polls are other polls that show Americans trust Republican plans for the economy much more than Democratic plans.
Okay, so it is a long haul to November, and polls will flip-flop more than a Massachusetts governor or Bill Clinton (and there may be a couple of interpretations of that). But here is why the long-term news is bad: historically, independent voters—who are really undecided voters—typically break for the challenger. In fact, almost always. Look to see Romney, over the next couple months, inch upward and widen the gap. As this happens, more undecideds will consider Romney a viable candidate and add their numbers.
So while there is no reason to write the President's political farewell letter, sharpening some pencils and locating the nice stationery might be well worthwhile.

Божію Поспѣшествующею Милостію Мы, Дима Грозный Императоръ и Самодержецъ Всероссiйскiй, цѣсарь Московскiй. The Czar was born in the steppes of Russia in 1267, and was cheated out of total control of all Russia upon the death of Boris Mikhailovich, who replaced Alexander Yaroslav Nevsky in 1263. However, in 1283, our Czar was passed over due to a clerical error and the rule of all Russia went to his second cousin Daniil (Даниил Александрович), whom Czar still resents. As a half-hearted apology, the Czar was awarded control over Muscovy, inconveniently located 5,000 miles away just outside Chicago. He now spends his time seething about this and writing about other stuff that bothers him.