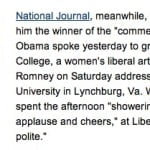 Dr. J. couldn't help but chuckle today.
Remember all those times the media played gotcha with President Bush at photo ops, publishing pictures like this, and this??
Well turn about is fair play, at least in James Taranto's eyes (the editor of the WSJ Opinion Page's Best-of-the-Web-Today.
Yesterday they have a picture of President Obama giving a commencement address at a women's college that is part of an Ivy League University.
Look at the picture.

Now what word is popping in your head right now?

RIGHT!
Not the name of the women's college associated with an Ivy League University, but an unkind word describing an illegitimate child.
Now, lets zoom out and see what is really going on.

We don't know if this was by design, but it sure made us laugh.
Turn about is clearly fair play in 2012.