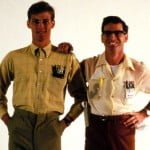 Having lived around Washington, D.C. for four decades, minus a stint in a southern state for college, GorT is familiar with the White House Correspondent's Dinner. It's had quite a history – good and bad. Overall, I think it's largely a non-story. Who really cares? It's a bunch of Hollywood types, press folks and politicians eating a fancy dinner and telling some jokes – many of which fall flat in one way or another. But in the end, it really doesn't matter.
However, with all the to-do that's been made of this past Saturday's event, I found one aspect a bit odd. Journalists and others are referring to it as the "nerd prom". While I may be making this into a bigger issue than it is – even after saying that the evening doesn't really matter – I'd like to pick on that title. The term "nerd" has some specific connotations in our society. Let's turn to the all-knowing Wikipedia:
Nerd is a derogatory slang term for a person typically described as socially-impaired, obsessive, or overly intellectual. They may spend inordinate amounts of time on unpopular or obscure activities, pursuits, or interests, which are generally either highly technical, or relating to topics of fiction or fantasy, to the exclusion of more mainstream activities.[1][2][3] Other nerdy qualities include physical awkwardness, introversion, quirkiness, and unattractiveness.[4] Thus, a nerd is often excluded from physical activity and is a social outsider. In the stereotypical high-school situation, they may be either considered loners by others, or they tend to associate with a small group of like-minded people.
Hmmm, maybe it's not far off in this case. Maybe these folks are "socially-impaired" or "obsessive". In many cases, they do "spend inordinate amounts of time on unpopular or obscure activities" but they generally aren't about highly technical topics so maybe it's the topics of "fiction or fantasy" upon which they focus. Clearly the comparison could go on…but I jest. Sort of.
Nerds, in the American stereotypical sense, are the smart, awkward geeks that tend to focus on computers and electronics or comic books or science fiction and fantasy. They rarely are epitomized as role models. So why would these folks label it as such and use Twitter hashtags like #NerdProm to tag tweets about the event? Maybe they aren't creative enough to come up with a better nickname (although one might ask why "Correspondents' Dinner" or "White House Correspondents' Dinner" doesn't suffice…heck #WHCD was a popular hashtag for the event giving folks 4 more characters in their tweets). Of course, that doesn't bode well for the professional reporters because as we all know – a good headline makes or breaks an article.
Personally, I think nerds – real nerds: programmers, scientists, RPGers, etc. – should call them out on this. Retake and own the #nerd tag and its subsidiaries. The WHCD is no #NerdProm. You want to see a #NerdProm? Have a dinner-dance after the next BlackHat conference or the evening event at the next ComicCon or DragonCon. Speaking as a nerd, we shouldn't let the White House, the press corps or Hollywood abscond with this term. Go use #PolitProm or something else.
* For those who don't get the nerd humor – Wolf B and Chris M, I'm looking at you – click here.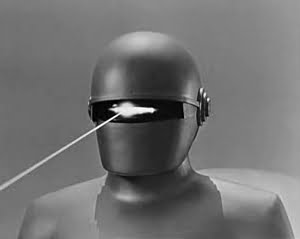 GorT is an eight-foot-tall robot from the 51ˢᵗ Century who routinely time-travels to steal expensive technology from the future and return it to the past for retroinvention. The profits from this pay all the Gormogons' bills, including subsidizing this website. Some of the products he has introduced from the future include oven mitts, the Guinness widget, Oxy-Clean, and Dr. Pepper. Due to his immense cybernetic brain, GorT is able to produce a post in 0.023 seconds and research it in even less time. Only 'Puter spends less time on research. GorT speaks entirely in zeros and ones, but occasionally throws in a ڭ to annoy the Volgi. He is a massive proponent of science, technology, and energy development, and enjoys nothing more than taking the Czar's more interesting scientific theories, going into the past, publishing them as his own, and then returning to take credit for them. He is the only Gormogon who is capable of doing math. Possessed of incredible strength, he understands the awesome responsibility that follows and only uses it to hurt people.