#Mayday #OWS style versus #onepercent style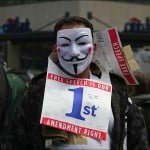 For those of you wondering why the hashtags all of a sudden, Dr. J. and GorT are doing a secret SPAMtastic experiment on Twitter.
For those of you with a pulse, you know that today is May Day. Dr. J. has fond memories of his youth when we had a quadrennial Renaissance Fair at his school. Indeed, his senior year, he was the court wizard. Dr. J. as you know looks great in black robes.
Anyway, in the communist world, May Day is a day where they celebrate the proletariat by holding parades showing their military prowess and how big their missiles are. Freud and Puter would have something to say about that, so Dr. J. will withhold comment.

Today, the Occupy Wall Street crowd will be protesting the 1%ers by trying to keep people from going to work. Truly a productive use of their time. Dr. J. respects their right to peacefully air their grievances, silly as they are, but he has no tolerance for disrupting others ability to move about freely or safely. So if they try to disrupt the public from going about their business, the police need to do what they need to do (Dr. J. will spring for the tear gas).

In contrast to OWS, there are a group of so-called 1%'ers who are doing good today.
A couple of τ'th graders at the Jedi Academy, as their service project, have decided to raise money to help defray the costs of cancer treatment for a little girl they are acquainted with named May. Get it? May Day?


In celebration of 'May Day,' every child in the school who donates a dollar is permitted to wear jeans and a t-shirt to school rather than their required brown and tan Jedi robes.


Now, a dollar is not a lot of money, but it adds up quickly given the size of the Academy. A lot of students, including the lil resident and lil medstudent have discussed this among themselves and are bringing more money than is requested (upwards of $20 each, in some cases). Dr. J. anticipates the children will raise far more than they are anticipating for this sweet little girl.





Keep in mind, these children, and their hard working parents who are giving freely of themselves to help others on this day, are the villains that the OWS'ers, their sympathizers, progressives and communists around the world are decrying with their marches.
As is manifest today at the Jedi Academy, the free market, and the wealth generated by it is the greatest force for good in the world, allowing individuals to give to those in need, and through offering opportunity, lifting more people out of poverty than any other means.
Which side are you on?