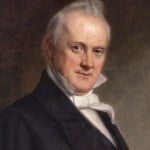 The Czar will not deny he gets great email. Take this message from the Burgher of Bong. Bong is a real place, and it is just to the South of our Castle. The Burgher came to visit us once, and was most impressed by its transdimensional nature; in particular, he was delighted by our Castle's propensity to shift around in time, and laughed when a Christmas decoration from 1932 suddenly appeared on the lobby wall. These things happen; heck, the Czar barely notices them.
Right, about that email he sent us:
Your Czarness,

I gather Newsweek and the rest of the Obama campaign are wearying of the comparisons to Jimmy Carter, but is James Buchanan really a step up? Or am I missing the joke? I mean, this is a joke, right?
The Burgher refers to the recent cover story of Newsweek, the cover of which trumpets Barack Obama as the First Gay President. After all, was James Buchanan not America's first gay president?
Actually, the Obama meme generation machine, in serious need of a battery change, is making reference to Bill Clinton, whose campaign referred to him rather erroneously as America's First Black President, proving again that politicians of all sizes and shapes have very little clue what the hell is going on.
This Newsweek plant was a stupid move, because apparently the Obama team's dimwits fail to recall that Clinton's spurious claim (although to be fair, Mr. Clinton never said it; Toni Morrison did) backfired on him, and a lot of political ground was lost. But not so fast: a recent poll shows only a tiny amount of Americans care about same sex marriage as an election factor, while most cynically believe the President does not even care all that much about gays and think his evolved position hurt him politically.
Of course, the Burgher also recalls the Czar knew James Buchanan, and…well…the Czar is pretty sure that Buchanan's failure to marry wasn't because he was gay, but because he was a rather sad dude when it came to women. Most people don't know that he met the woman of his dreams—her name was Ann—whom he loved dearly. However, Ann was overly jealous, and was a little put off by Buck's sincerity. He proposed, she accepted, but then she went all psycho on him and called of the engagement. Trust the Czar: had this happened in 1994, Ann would have totally keyed Buck's car and thrown a bowling ball through the windshield. Psycho.
Buck was heartbroken because—and the Czar will totally back him up on this—he didn't do anything wrong. Yeah, he was seen in public hanging out with another woman, but nothing happened. The Czar knows because he was in the same restaurant. Anyway, Buck was distraught over the broken engagement, but that was nothing compared to what happened next.
Just before the holidays of that same year, Ann suffered a complete breakdown and died of what the Czar believes was actually congestive heart failure. Buck was inconsolable because he never got a chance to apologize to her, even though he didn't do anything wrong. He wrote her father a letter, trying to explain the whole mess as a big misunderstanding, but the letter was kicked back to him return to sender. Buck never got over that, and grew miserable and cold about women ever since.
So no, Buchanan wasn't gay—but he sure was a mess.
On the other hand, Buchanan was a total loss as a president, and yes—the Czar will avow that his Buck was worse than your Barack. Buck saw the entire country falling apart, and basically took the attitude that nothing was ever going to improve. Here's the thing: Buchanan was absolutely certain that history would judge him in the right: that there was no way out of the slavery deadlock except controlled collapse.
Well, history disagreed, and tons of American slaughtered each other in a battle so bad the country should not, technically, have survived. Barack Obama is a disaster, and he is now officially much worse than Carter in terms of institutionalized incompetence, but while we worry that Obama could destroy the country, Buchanan let it destroy itself. And that's bad. So bad in fact that the Democratic party self-destructed in 1860 just to avoid any chance of Buchanan being re-elected.
And you thought the Republicans were testy over Mitt Romney?

Божію Поспѣшествующею Милостію Мы, Дима Грозный Императоръ и Самодержецъ Всероссiйскiй, цѣсарь Московскiй. The Czar was born in the steppes of Russia in 1267, and was cheated out of total control of all Russia upon the death of Boris Mikhailovich, who replaced Alexander Yaroslav Nevsky in 1263. However, in 1283, our Czar was passed over due to a clerical error and the rule of all Russia went to his second cousin Daniil (Даниил Александрович), whom Czar still resents. As a half-hearted apology, the Czar was awarded control over Muscovy, inconveniently located 5,000 miles away just outside Chicago. He now spends his time seething about this and writing about other stuff that bothers him.