Liberals and Conservatives: A Primer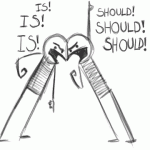 Although Oceania has always been at war with East Asia, it is interesting how little we understand each other. The Czar would prefer not to describe the generally petty differences between liberals and conservatives, for example, as war. But no matter how large or small the disagreements are between them, there are some peculiar matters about which conservatives and liberals often do not know about the other.
Let us say that this is most evident in the social media. Both Twitter and the "comments" section you can fill out on a decently run website (we, for example, do not have such a section) require considerable brevity, and brevity requires shorthand. Too often, the need to use actual shorthand is replaced by intellectual shorthand. Jonah Goldberg has a pretty solid analysis of this in his new Tyranny of Clichés treatise, in which he looks at this intellectual shorthand on both the Left and the Right. But if you want to see how ugly ignorance can be, read Twitter or those "comments" section to witness just about every example of idiocy across the spectrum.
The Czar though wants to explore a little about what each of us does not appreciate about the other, often as the result of that same shorthand, or possibly even out of general ignorance. A lot of folks will read the following examples and blink repeatedly, unable to process. But everyone of them is true.
Before we get started, some ground rules. You will note that the Czar tries to be very careful, here and everywhere, to use qualifiers with liberals: most liberals, or some liberals, or generally liberals. In a group as self-defined toward inclusiveness, all liberals is a rare qualifier: you can always find numerous exceptions. In fact, some liberals are not even liberals, but are uninformed conservatives who call themselves liberal just to fit in. Seriously: not even all liberals are ipso facto liberal.
What Most Liberals Do Not Know About Conservatives
Most liberals tend to view conservatives as monolithic supporters of the status quo; all white, Christian men who love being rich. In fact, conservatives consist of many subgroups and divisions among them. Huge percentages of conservatives are non-white, about half of them are female, and only a small percent are wealthy. Indeed, many have no religion at all. Liberals should consider also libertarians, who make up a sizeable number of conservatives; they want most laws repealed: if you wanted to be a party-drug abusing live-off-the-earth atheist hippie who doesn't want to serve in the military, you would be better off voting libertarian, because that division of conservativism would back you 100%.
Another difficult concept for a large majority of liberals to understand is that conservatives do not follow an individual leader. Conservatives, in fact, guffaw at the notion that they take their marching orders from Rush Limbaugh, or Sarah Palin, or anyone else in the media. Conservatives distrust authority, for the most part, and make strong efforts to think for themselves. They may be entertained by a Rush Limbaugh, or rally around the tax-cutting speeches of a Sarah Palin, but clearly vote their own way. Even Ronald Reagan struggled with conservatives on many issues. This notion, however, comes from a strong instinct among most liberals to follow a singular, charismatic idealogue; to many liberals, there must be a spokesperson, a poster child, a celebrity, or union head delivering the message. Conservatives usually do not conflate agreement with obedience; liberals are wrong pretty much every time they refer to "marching orders" from whatever conservative just completed a speech.
Conservatives not only dislike racism, but are quick to turn on the very few racists who dwell in their midst. Too many liberals are believes in identity politics, which means that you tend to vote and think and act based on what group or category you are placed in. Conservatives, as most liberals know, reject identity politics, but do not recognize that racism is identity politics. Conservatives, for example, are more interested in what a neighbor does or says, rather than what color his skin might be. That said, conservatives are also aware that anything they say can be twisted into a racist comment, especially by someone with an agenda to that end, but are starting to treat the racist brand as a badge of honor—under the popular premise that a racist is merely a conservative beating a liberal in an argument. Honest liberals would not only have to look very hard to find a real, conservative racist, but would be forced to admit that most real racists tend to skew liberal in their voting records. Fred Phelps, anyone?
Conservatives are not anti-science and in most respects are far more pro-science than many liberals. Jonah Goldberg, in his new book referenced above, does an excellent job revealing the facts behind this misconception. Regular readers to this site are well aware of the numerous posts covering the strong anti-scientific and anti-technology bent of liberals. The intent is not to call liberals hypocrites, but to remind all liberals that their track record on science is terrible. And, to those liberals who are rolling their eyes at this claim, the evidence behind it extremely easy to research, if you dare.
Very few conservatives are rich or wealthy. So why then do liberal voters keep hearing that conservatives are always looking to make loopholes for the rich, or that the middle class suffer under conservative policies? Because this is sugar-coated Marxism: nearly all of these arguments are modern day translations of the class warfare struggles of Karl Marx; and no, this isn't paranoia. Subsitute rich with bourgeois, and middle class with workers, and you are quoting the big guy himself, Karl Marx. Liberals may believe the rich don't pay their fair share, but they usually do not realize they are parotting Marxist thought because the terms have been so thoroughly scrubbed by experts trying to influence the average worker middle-class family.
Conservatices are not the bible-thumping fire-and-brimstone sad sacks whose only fascination are firearms. In reality, conservatives are far more likely to be self-deprecating than liberals. Jay Leno said he prefers writing gags for conservatives because they are always more willing to laugh at themselves, whereas liberals have no sense of humor unless ridiculing someone else. Much truth there is therein.
Here is an another aspect that may shock conservatives just as much as liberals: not all conservatives support the Second Amendment; and many who profess they do secretly do not.
What Most Conservatives Do Not Know About Liberals
Liberals self-describe themselves as coming from all walks of life, but in actuality come in three major categories: (a) manipulative leaders, (b) drone followers, and (c) true independents. The first category is a small group, and consists of people who have largely taken over the ideology of liberals: radicals, communists, progressives, socialists, and so on. These people prepare the talking points, whitewash the language, and find the next target. The second group, the vast majority of liberals, show up at the marches, deliver the talking points, call up radio stations to complain, and write the Facebook pages. Most liberals will identify with the third group, but really belong in the second. The third category, stuffed with guys like Joe Lieberman, tend to be outcasts and pariahs to the other two groups because they tend not to take extreme positions or even side with conservatives on important issues. Conservatives do not often recognize that most liberals are actually easy-going people who work a full day, come home, play with the kids, complain about the bills, watch television, and go to bed. What they don't recognize, that conservatives do, is that their political messages have been totally taken over and corrupted by that first group, who have fairly insidious plans for them.
Another surprise for conservatives: liberals do not view themselves as hypocrites or as having double standards. While conservatives love to start sentences with "Sure, when George Bush was President, that was wrong, but if Obama does it…." But this is wasted on nearly all liberals: part of liberalism is the adoption of a more flexible, situational type of ethics. When a conservative does something wrong, it is because he is either stupid or evil; when a liberal does it, there was a very good reason. While this leads to all sorts of cognitive dissonance, the important thing for conservatives to remember is that liberals can squelch the dissonance by rationalizing the hypocrisy away through a complex but ultimately satisfying form of "the end justified the means." Braying about it won't help.
Liberals are generally not anti-religious people. Most are quite religious. However, quite a few are either atheists, irreligious, or openly hostile to religion, but the religious ones do not oppose or reject them: after all, the atheist has an opinion worth considering, too. There are, indeed, many atheists in conservative clothing, but they take a more quiet, respectful libertarian position of "Go ahead and worship if you please and however you please." That's a subtle difference, but the end result is conservatives tend to downplay non- or anti-religion, whereas liberals tend to play those views up.
Most liberals are not against free market economy, although they vote that way often unwittingly by supporting Leftist positions. In fact, many liberals would not only reject any restriction of capitalism, but would be the first to suffer if free-markets went away in favor of state-run businesses. The problem conservatives have with them is how obvious the threats to free-market capitalism are, whereas liberals tend to overlook them as trivial or paranoid fantasy. Even so, most American liberals are well aware of how bad things would be if many of their demands were actually met.
Liberals generally trust the media and press more, and thus are unaware of the echo chamber effect, in which the liberal media amplifies reassurances to liberal audiences, which in turn convince the media outlets that liberal views are more popular. One of the big reasons conservatives have retaken control of social media and politics isn't because they are racists against Obama, but because conservatives are increasingly discovering that the mainstream media is not a disaster of epic proportions that cannot be trusted.
Another dirty secret about liberals: most liberals know full well that conservatives aren't actually racist. But wow, up until 2008, the race card used to really work!
Liberals are not against the Constitution of the United States, but it can certainly seem that way. Progressives, of course, find the Constitution an odious document that almost seems designed to thwart oppressive expansion of government; however, Progressives are not a majority liberal population. Most liberals, in that second group, understand the role of the Constitution and how it was indeed intended to complicate any one individual's takeover of the United States; alas, the Progressives are calling the shots right now, and many liberals are quietly surprised to see the almost daily assaults on American institutions—but feel powerless to stop them.
Look, all kidding aside, most liberals are really nice people, just as some conservatives are not nice people. Liberals actually agree—albeit with quite oppositional perspectives—with conservatives on many issues. The problem occurs with the flip-side of that: the conservatives who are unpleasant are generally obscure problematic asshats with limited reach and a very short political lifespan. The unpleasant liberals, though, aggressively move into government and other decision-making positions, scrub, re-write and re-brand dangerous ideas, and force feed them to unsuspecting dupes.
And it's the unsuspecting part of that equation that makes the rest of liberalism a force to oppose legitimately.

Божію Поспѣшествующею Милостію Мы, Дима Грозный Императоръ и Самодержецъ Всероссiйскiй, цѣсарь Московскiй. The Czar was born in the steppes of Russia in 1267, and was cheated out of total control of all Russia upon the death of Boris Mikhailovich, who replaced Alexander Yaroslav Nevsky in 1263. However, in 1283, our Czar was passed over due to a clerical error and the rule of all Russia went to his second cousin Daniil (Даниил Александрович), whom Czar still resents. As a half-hearted apology, the Czar was awarded control over Muscovy, inconveniently located 5,000 miles away just outside Chicago. He now spends his time seething about this and writing about other stuff that bothers him.