#julia isn't single, she's married to the state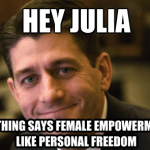 For your Sunday morning reading, this powerful editorial by Jessica Gavora in the Washington Post.
She writes:
But Julia is a more artful and nuanced creation than a simple tour guide to the utopia that awaits under a second Obama term. She is designed to appeal to a narrow but deep demographic: single women, especially single women with kids.
In 2007, the United States passed a significant demographic milestone, when the census reported that the majority of American households were headed by unmarried people. It was the crest of a wave that had been building for some time. Since 1960, the percentage of the population that is over age 15 and unmarried increased from 32 percent to 45 percent. If this trend continues, singles (including unmarried people who are cohabiting) will make up the majority of Americans in less than 15 years.
Read the rest here.