In Which The Lil Resident Stands Her Ground…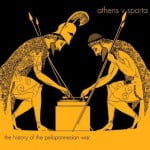 Kids fight. Sometimes it's a fist fight, and sometimes it's an argument.
Last Friday, the Lil Resident related a tale of an argument she had with Lady Jaye, one of her athletically inclined classmates at the Jedi Academy.
"So, Lady Jaye said to me, 'Dancing's not a real sport.' I told her, of course it is. And she said that it was not."
"What did you do then?"
"I asked Master Jocasta Nu her opinion, and she agreed with me, but Lady Jaye still said she thought dancing wasn't a real sport."
"Ok…"
"So I said, listen, I practice six hours a week. We go to regional tournaments five times a year and last summer we went to Chicago for a national tournament where my team won and were declared [she inserted finger quotes here] National Champions. We won a trophy taller than me or you. Have you done that? Trust me, it's a sport."
At this point, Dr. J. couldn't help but chuckle to himself. Lady Jaye is generally a sweet girl, and Dr. J. likes her a lot, but sometimes doesn't think before she speaks. More than once when Dr. J. was coaching her in basketball he had her running laps because of her lack of a filter. Each time, her parents Duke and Scarlet, made sure she apologized.
Dr. J. was very proud that the Lil Resident stood her ground and very effectively made her point, rather than backdown and let her friend get away with what she felt was upsetting declaration.
What Dr. J. wasn't happy about was the fact that she busted out her inner brag-hag to make her point. Subtle doesn't work on Lady Jaye, so he understood why she did it, but he did advise her in the future to avoid using such a rhetorical nuclear option, unless absolutely necessary, because one does not want to win the battle only to lose the war (or a friend).

It was fascinating how different parties involved responded to this kerfuffle:
Dr. J. and the Lil Resident discussed it Friday on the drive home from school without giving it a second thought.
Unbeknownst to Dr. J., Master Jocasta Nu, the Lil Resident's teacher discussed the situation with Master Windu, the Dean of the Younglings at Jedi Academy and then sent Duke and Scarlet, an email and made a follow up phone call to discussed how she was concerned that this had the potential to be construed as bullying.
Duke and Scarlet, who are wonderful people, and have worked hard with Lady Jaye to think before she speaks, were mortified. The talked to her about it over the weekend. Scarlet also called Mrs. Dr. J. on monday morning.
Lady Jaye apologized to the Lil Resident first thing Monday morning, much to Lil Resident's surprise. Unprompted, Lil Resident told Lady Jaye she forgot all about it, accepted the apology and perhaps shouldn't have rubbed her championship in Lady Jaye's face.
Mrs. Dr. J. was blindsided by all of this on Monday, spent much of the phone conversation trying to make Scarlet feel better about everything, because the Lil Resident really wasn't bothered by the while thing. She fortunately wasn't mad at Dr. J. for forgetting to mention it on Friday.
He appreciates Master Nu's desire to get advice from her boss when she was concerned for the potential for bullying, and Master Windu for advising her; Duke and Scarlet, who are great parents working hard with their little girl on her filter, and their willingness to take ownership; Mrs. Dr. J. for spending an hour trying to make Scarlet feel better; but his biggest kudos go to Lady Jaye and the Lil Resident, because, ultimately they worked it out themselves.
The point is, that while the media has been spending a great deal of time talking about bullying, the kids themselves tend to do a good job policing themselves. Dr. J. is especially thankful that the Jedi Academy clearly gave these kids the tools to do it themselves. The rest of us, as you can see played largely ancillary and reinforcing roles, but the greatest role we had was in giving them the proper tools to handle it themselves.